17 February till 28 March 2010
Residency Deirdre M. Donoghue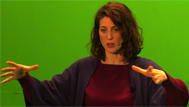 Memory is not static, but is formed over and over again, according to the Finnish/Irish artist Deirdre M. Donoghue (1971). By expressing memories and sharing them with others they take a new shape. In A Certain Capacity for Occupying Space Donoghue works with memories of works of art, and tries to make these visible.
Donoghue films five persons who attended a performance in London three years ago. During interviews about the recollection of this performance, she tries to register the language and the corresponding facial expressions and behaviour on film. In this way, a cultural memory becomes visible, as it is formed and reformed through partially unconscious behaviour and through behaviour which is made aesthetic.
By meeting inhabitants of Beetsterzwaag and having conversations with them, Donoghue also searches for collective cultural memories in the local community. She makes sound recordings of these interviews that can be listened to in SYB.
On Saturday the 27th and Sunday the 28th of February everyone is welcome at Performing Memory. During this performance visitors can activate memories of the artist herself by sitting next to her. She expresses the 'stream of consciousness' that is evoked by this situation in the artist until the person sitting next to her leaves.
Donoghue closes the project in a festive manner with the Open Office For Words on Sunday the 21st of March. Donoghue usually organizes the Open Office For Words every month in ADA Rotterdam. Here, she invites artists, architects and academics from different disciplines to bring a relevant book, to read and to have conversations. These meetings are open and hospitable with (homemade) cake, tea and coffee for free. Donoghue has invited a performance artist and a scientific specialist on memory for the Open Office in SYB.

Deirdre Donoghue (Finland, 1971) took her MA at the Piet Zwart Institute in Rotterdam in 2007. Before that, she did various trainings in visual arts, photography and dramaturgy in Ireland. In Rotterdam, Donoghue is active in an artists' initiative called ADA. Her work could be seen earlier at, for instance, Veemvloer Amsterdam and TENT. Rotterdam.
Project period:
17 February until 28 March
Opening hours :
every Saturday and Sunday from 13.00 until 17.00
Performance 'Performing Memory':
Saturday 27 and Sunday 28 February from 13.00 until 14.00
Festive closure and 'Open Office For Words':
Sunday 21 March from 14.00 until 16.00
SYB maintains an open process by opening its doors to the public every weekend during each residency.
This project is partially financed by the Mondriaanstichting