7 April till 5 May 2022
Residency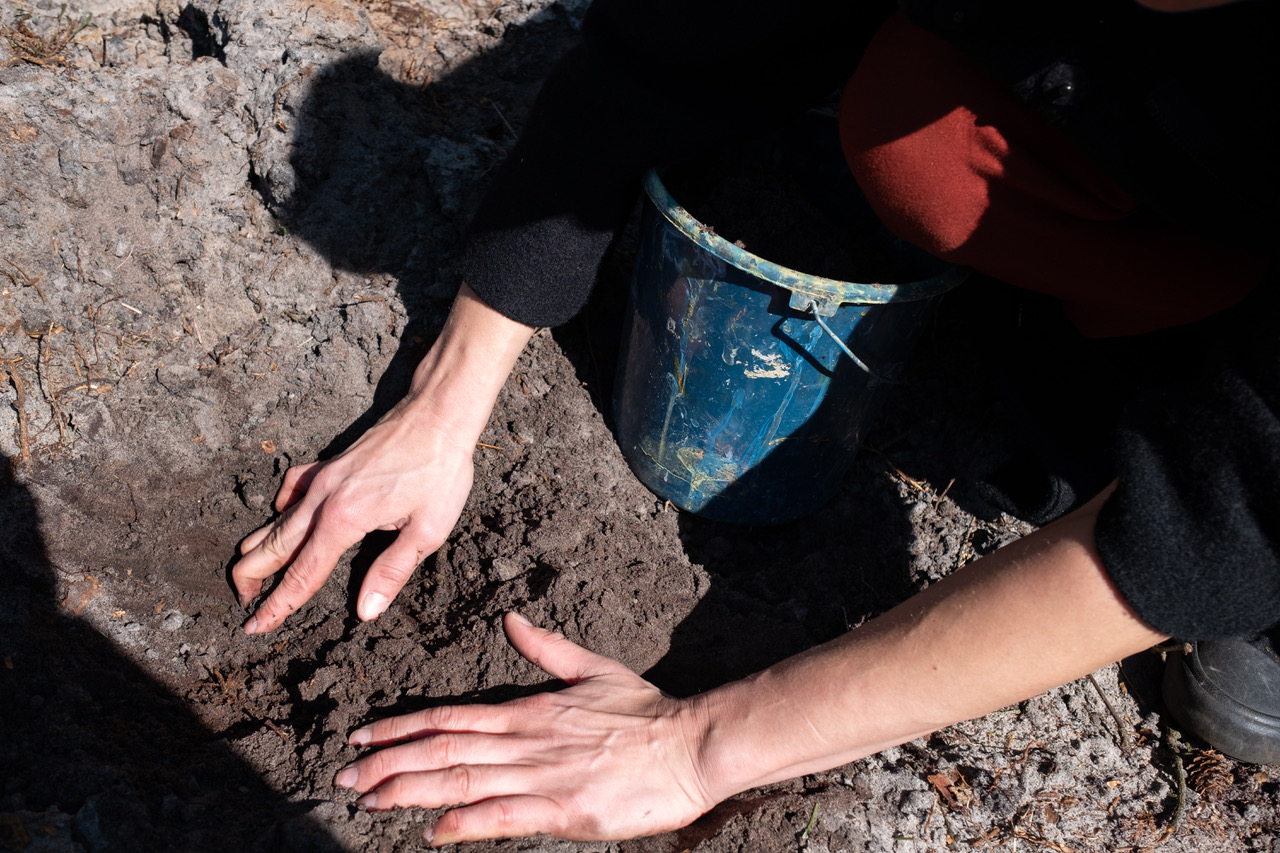 Kunsthuis SYB welcomes Charlotte Eta Mumm. She started the first part of her residency 'Grund' on April 7 and will stay at SYB until May 5 to research and collect different types of Frisian soil.
On July 18, Charlotte will return for two weeks to work on the final phase of her research, evaluating ceramic glazes made in the time between.
Charlotte her work deals with variables and tangibility using different media and materials. It isn't about the material per se but about the transformation and entitative qualities. It's essential for her to investigate in a physical, interactive way, since the essence of things/materials and her intuitive approach during the process go in dialogue with her thoughts.
During her residency in Beetsterzwaag, she will go on fieldwork to collect different types of Frisian soil/grûn. Think of soil textures like sand, loam, topsoil and peat. In doing so, she will be exploring the direct surroundings of Beetsterzwaag in order to become acquainted with the region.
The words Grund and reason will be a line of thinking during her residency. The word for soil in German is Grund. This word means soil or ground and also; reason, motive, fundament and cause. It asks for Why?, and is looking deep down for a reasoning. Reason on the other hand unfolds in different meanings, shifting from rationality, argument to cause.
Charlotte will use the collected soil to make ceramic glaze out of it. The transformation of one source to another kind of substance interests her very much. Each type of soil will lead to its own aesthetic appearance during firing and sintering. In that way the glaze will tell a story about where it comes from but in an autonomous and poetic way.
Next to the fieldwork, she wants to work at SYB to develop relief imagery and spatial sketches in clay. Being open to the working process and impressions of her stay in Friesland.
During Charlotte's residency, Kunsthuis SYB will be open on Saturdays and Sundays from 1:00 – 5:00 pm – subject to measures regarding the coronavirus.
About the artist
Charlotte Eta Mumm is living and working in Amsterdam. She studied Fine Arts with Prof. Urs Lüthi at the Kunsthochschule Kassel in Germany from 2000-2008 and spent a study year at the Sichuan Fine Arts Institute in Chongqing, China. Her work has been exhibited in Germany and internationally. To name a few: Galerie Tanit in Munich, Städtische Galerie Nordhorn, Kasseler Kunstverein, Eduardo Secci Contemporary in Florence, Galerie Rolando Anselmi in Berlin.
Awards and Residencies include e.g. fellowship for the European project 'The Spur' at Sputnik Oz in Bratislava (SK), the Saari Residency fellowship from the Kone Foundation (FIN), and a working grant given by the Ministry of Culture Lower Saxony (GER). In 2018 she was s awarded the Werkstattpreis of the Art Foundation Erich Hauser in Rottweil (GER), and 2019 a Sundaymorning@EKWC working grant (NL). Recently, she got invited by the Josef & Anni Albers Foundation to join their residency program 'Thread' in Sinthian, Senegal.
Call
Charlotte is thankful for any tips for places with interesting soil in the surroundings of Beetsterzwaag and Friesland. Please contact her via mummcharlotte@gmail.com or send an email to info@kunsthuissyb.nl.
This project is kindly supported by: