18 September till 30 October 2017
By Agnes Winter, translation Sanne Lauriks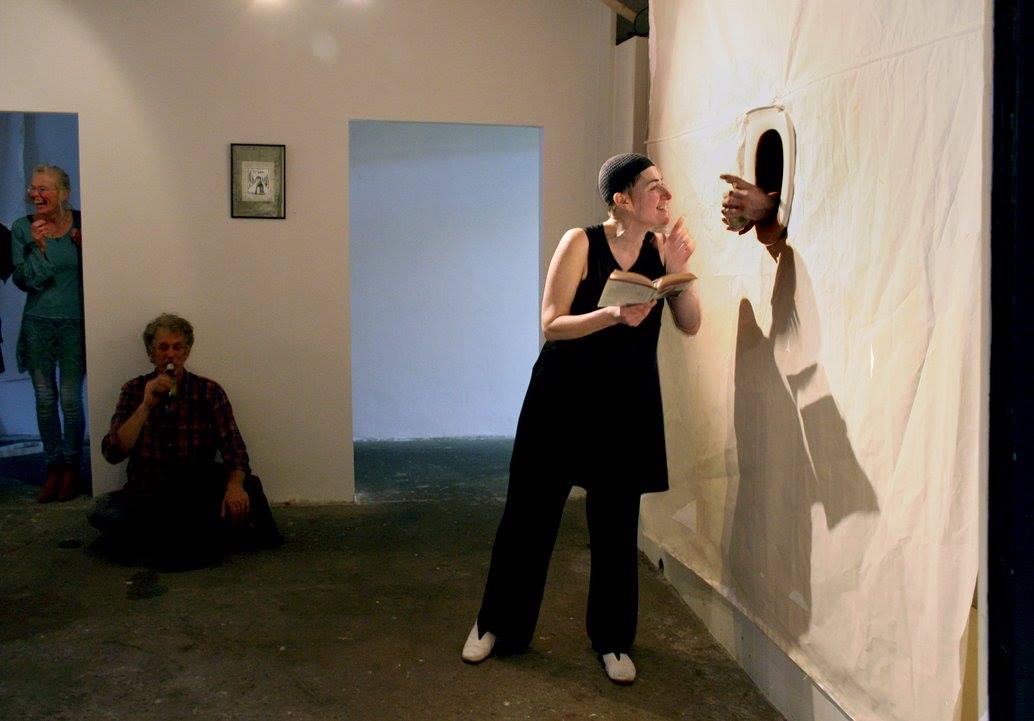 It is hard to imagine a greater contrast than between the bustling metropolis of London and the quiet and quaint Frisian village of Beetsterzwaag. In 2017, Kunsthuis SYB began its first collaboration with King's College in London, one of the oldest universities in the United Kingdom. It presented a unique opportunity for the participating artists to combine the academic practices of philosophy and theory with a focused, practical work period at Kunsthuis SYB. The exchange was initiated by King's College's Centre for Philosophy and the Visual Arts, and ties in with the long tradition of residencies in which King's artists get a chance to bolster their artistic practices in an academic context. This collaborative tradition between researchers, students and artists at King's College is, happily, not confined to the Faculty of Humanities but is embraced by nearly all faculties of the university; from Computer Science to Dentistry.
For this first collaboration between King's College and Kunsthuis SYB, two artists were selected from an open call. Both artists had a keen interest in subjects taught by the Department of Philosophy at King's College. British artist Hester Reeve enrolled herself in Kant's Groundwork of the Metaphysics of Morals taught by Dr John Callanan, which tied into her desire to learn more about Kant, and to apply and integrate his philosophy into her visual and performative art. The Irish artist Siobhán Tattan was especially interested in a series of lectures by Dr Christopher Hamilton, entitled The Search for Meaning, which unpacked philosophical ideas about the nature of human existence through a series of literary texts. Similar to topics covered in these lectures, Tattan's works often depict fictional characters who struggle with their solitary existence and the complexity of interpersonal relations. In addition to the seminars, the artists talked with their lecturers about symmetries between the covered materials and their own artistic practice.
After three months of seminars at King's College in the spring of 2017, the artists came to Beetsterzwaag for a six-week residency at SYB. The final presentation took place here on 21 October. It was clear from the amount of new work on show that the artists had left King's College full of inspiration and had found their time spent at SYB to have been very conducive to productive work. Interestingly enough, their academic immersion did not directly lead to theory-entrenched artwork. In fact, it seems to have brought them back to their artistic roots: craftsmanship.
Siobhán Tattan
Siobhán Tattan's residency at King's College resulted in two projects. Dr Hamilton's lectures explored both philosophical and theological questions, such as fulfilment and sense of purpose, by analysing central characters through a series of literary texts. One of these troubled characters, the German author Heinrich von Kleist (1777-1801), is the focus of Tattan's work A Yearning Deep Enough in which she links the author to another misunderstood literary figure: Elisabeth 'Lolly' Yeats (1868 – 1940), sister of W.B. Yeats. Tattan suggests a fictional romance between the two hopeless romantics depicted in two ex libris. A Yearning Deep Enough will be further developed into a script and sound installation.
Tattan also exhibits her work Forsaken: wool embroidered tapestries of Ireland's abandoned landscape. During her research into Elizabeth Yeats, Tattan came across the art of embroidery, which was a common activity amongst women in the nineteenth century. The special technique of hook punching or rug hooking that Tattan uses, was back then disparaged as a lesser country craft for women who had to make things themselves due to their poverty. Their embroideries often commemorated important life events, personal memories, or landscapes. In a similar fashion, Tattan uses this art form to commemorate the events that drastically changed the Irish landscape over the past twenty years.
The Irish economy boomed from the mid-nineties, when foreign investors discovered the country as an ideal haven for their business, this included many top IT companies. Ireland's economics growth was unprecedented in Europe, and saw a major surge in construction that turned many rural areas into residential districts. This housing bubble burst in 2008, and many large development projects that were abandoned turned into ghost towns. These deserted landscapes are the inspiration for Tattan's tapestry hanging on the wall or spread out on a stack of bricks. The placement of the delicate tapestry amongst the rough-edged bricks draws out the harshness of their depictions; posing the question: how did we let this happen?
Hester Reeve
For artist Hester Reeve, her residency at King's College meant a chance to delve into the philosophy of Immanuel Kant (1724 – 1804) under the supervision of Kant expert Dr Callanan. Reeve has explored the link between philosophy and art before, for example in her previous performances inspired by philosophers like Plato (Ymedaca – The Game Plan (Platonic Exercise: Sacrifice to Athena), 2014) and Nietzsche (Of Sound in the Landing Page, 2015). Kant's thoughts on morality and how humans act morally act fascinated the artist in particular. She relates Kant's philosophies to the notion of her own 'artist substance' that she explores in her work.
Reeve was especially interested in how morality can be approached if not through knowledge, and whether it can coalesce, take shape, without words. Does morality then turn into a creative undertaking? One that can also be expressed, for example, in painting? By posing this question Reeve makes a fundamental connection between thinking and creating – between our spiritual and material world – and recontextualises the art studio into an 'experimental laboratory for moral ability'. Under the umbrella title Yes we Kant!, Reeve presented the apron fashioned out of canvas as a leitmotiv and symbol of the creative labour of the artist. In the back room a large apron lies on the floor, with wooden brushes sticking out of its pockets that were carefully and attentively carved by the artist into decorated 'will sticks'. In doing so, Reeve turns her archetypal modus operandi – painting – not only into a meaningful ritual but also relates it to the good will that Kant recognised in humans; she turns painting into a moral act.
In addition to her visual works, an essential part of Reeve's presentation at SYB was her lecture-performance in which she referenced the classical work that has inspired Kant's moral treatise: John Milton's Paradise Lost. Her performance was a philosophical essay as well as an ode to Satan, who played an important role in Milton's poem on the Fall of Men. That is, the Devil as a creative force, not only in his ecstatic description of the beauty of the Garden of Eden, but also in his meddling with Adam and Eve (hence Reeve's title: Go forth and meddle!). If it was not for the devil tempting Eve to eat the apple of the tree of knowledge of good and evil, Adam and Eve would have never opened their eyes, would not have known language nor a moral understanding, and would not have grasped their own corporeality, similar to that of the place they were banned to: Earth.
Reeve manages to translate Kant's rationality and morality into the practical labour of the artist. What is clear is that her philosophy is not a theoretical stand-alone discourse, but rather something that needs to be lived. And so, the residency, combining theory and practice, seems in perfect accordance with her own artistic practice.
The lectures at King's College offered the artists an opportunity to gain more theoretical and scientific knowledge and methods, and to apply this newly gained knowledge into their works. What is striking is that this exploration actually drove the artists back to the craftsmanship involved with art; making and creating as a form of philosophy. Currently, the second edition of this exchange is in full swing. In this edition, Dutch artist Jort van der Laan and British artist Ben Cain will follow a module at the Department of Philosophy at King's College, which will foster new inspiration to create new work during their residency at Kunsthuis SYB in the fall of 2018.
SYB <> CPVA, Kings College, 18 september t/m 30 oktober 2017

This text was commissioned by SYB's writer's program. The text may be published free of copyright provided that prior permission has been granted by SYB.
Met dank aan: