13 February till 20 March 2016
Residency Rachel Sellem, Maaike Knibbe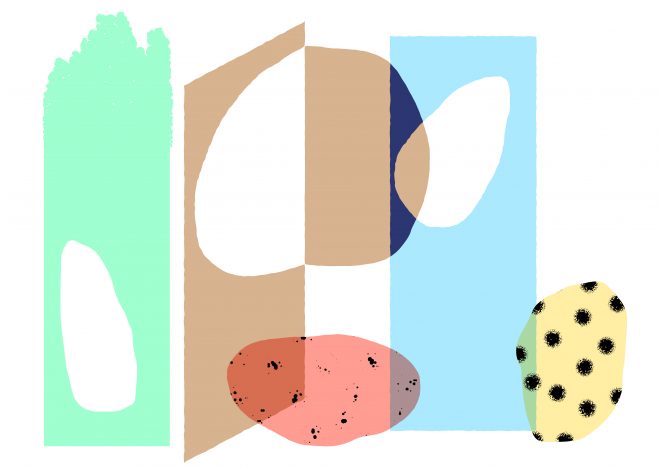 We touch objects on a daily basis: cups, cutlery, plates, a mouse to control our computer, bottles of shampoo and soap, tools, chairs, couches, tables. We touch these objects because their functions invite us to.
We drink coffee from the same cups everyday, sit at the same table, and everyday we open and close the same curtains. We use our keys, water the plants and put on our shoes. All these acts create a physical relationship with the things in our home. These actions make that we relate to these objects and clearly define our role in the household. It is the objects of a certain space that make us feel at home.
But what happens when the furniture and objects disappear one by one, only to return in a form stripped of any reference to their original function in a composition that is no longer determined by your daily rithme? What happens when everything around you slowly changes into a constellation of abstract forms, colours and textures that only in essence allude to your once so familiar objects? How do you behave in such an interoir? How do you relate to these things? Will you be alienated and weirded out? Or is this new installation truly your ultimate home?
Rachel Sellem and Maaike Knibbe will experimentally empty out Kunsthuis SYB, and slowly, bit by bit, replace the furniture and objects with objects that remind us only in essence of utilitarian objects. Gradually, new relations emerge during their residency among objects, among objects and the space, and among visitors of the Kunsthuis and their direct environment. Not even the content of the fridge escapes this rigorous experiment, as every weekend visitors can partake (on registrationXX) in a meal in which even the food is presented in an abstract form.
When Rachel Sellem (NL 1987) and Maaike Knibbe (NL 1988) met a year ago, there was an immediate click between the two young artists. Both work with three-dimensional objects, with installations and arrangements that focus on colour, materials and the physical relationships between the object en the visitor. But while Maaike Knibbe works thoroughly and on a large scale with a great focus on the smallest details, Rachel Sellem works quick and passionately on large series of small objects that don't seem to have found there definite form yet. Both artist decided to use their stay in Kunsthuis SYB to explore how the methods of the one can inspire the other.
Rachel Sellem graduated from the Gerrit Rietveld Academy in 2014. Since she has been part of several group exhibitions such as Object Rotterdam (part of Art Rotterdam) and Rosetta Stone in Paleis van Mieris Amsterdam in 2015.
Maaike Knibbe graduated from the Minerva Art Academy in Groningen. Since she has been part of several group exhibitions such as Beelden in Leiden and with project space Zoete Broodjes at the This Art Fair in 2015.