20 December 2014
Marianna Liosi, Alessandra Saviotti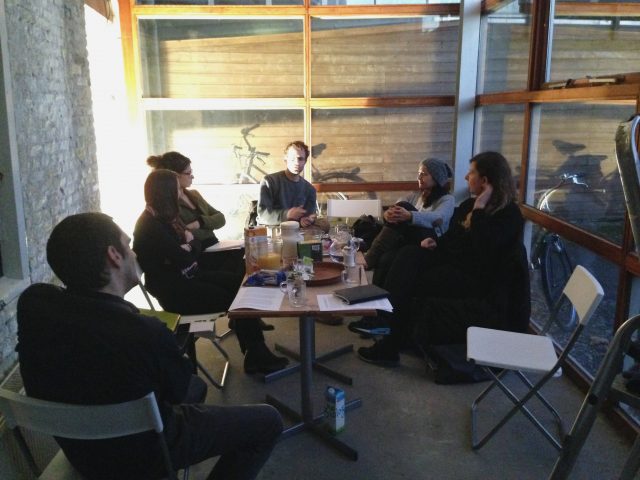 Saturday 20th December at 3 pm the final presentation of the six weeks long residency project When spectators work, workers observe – The beginning is the last part to be created will take place at Kunsthuis SYB.
The curators and the artists will show an overview of the research process developed through the setting up of the exhibition space: traces of individual reflections as well as of the collaborative work with the guests and the audience, diagrams on the walls, an archive of inspiring texts will give a visual idea of the physical and conceptual works carried on during the residency.
Notions of productivity/unproductivity, unlearning in order to learn, involvement of the body in the cognitive labour as well as the worth of the physicality in relation to an individual and collective awareness have been the main topics explored.
As a result of their stay, Cathleen Schuster and Marcel Dickhage will present "In order to produce", an in progress film installation, which has been started at SYB. It consists of a woman who is filmed while remembering her past, yet her history seems to be the one of a place, a house, a former factory. The narrated memories seem slightly different from the images a viewer is discovering in the film, as if the person would remember some things wrongly.
The former history of the place as a candy factory is confronted with the actual storyline of the place as one for art production. At one point, the woman turns herself into a spectator and leaves the viewer of the work questioning her or his own role.
During the presentation, the film will be shown in a situation with a desk, a laptop and headphones that reminds of an editing process, as (if) the work is still in progress.
The film has been realized thanks to the involvement of the actress Josephina Bakker.
Furthermore, a sound installation set in the back of the exhibition space will recall both to the candy workshops led by Elles Kiers engaging the children living in Beetsterzwaag, and the identity of Kunsthuis SYB as a space of production.
For the visual essay please visit ATPdiary