1 July till 15 August 2021
Residency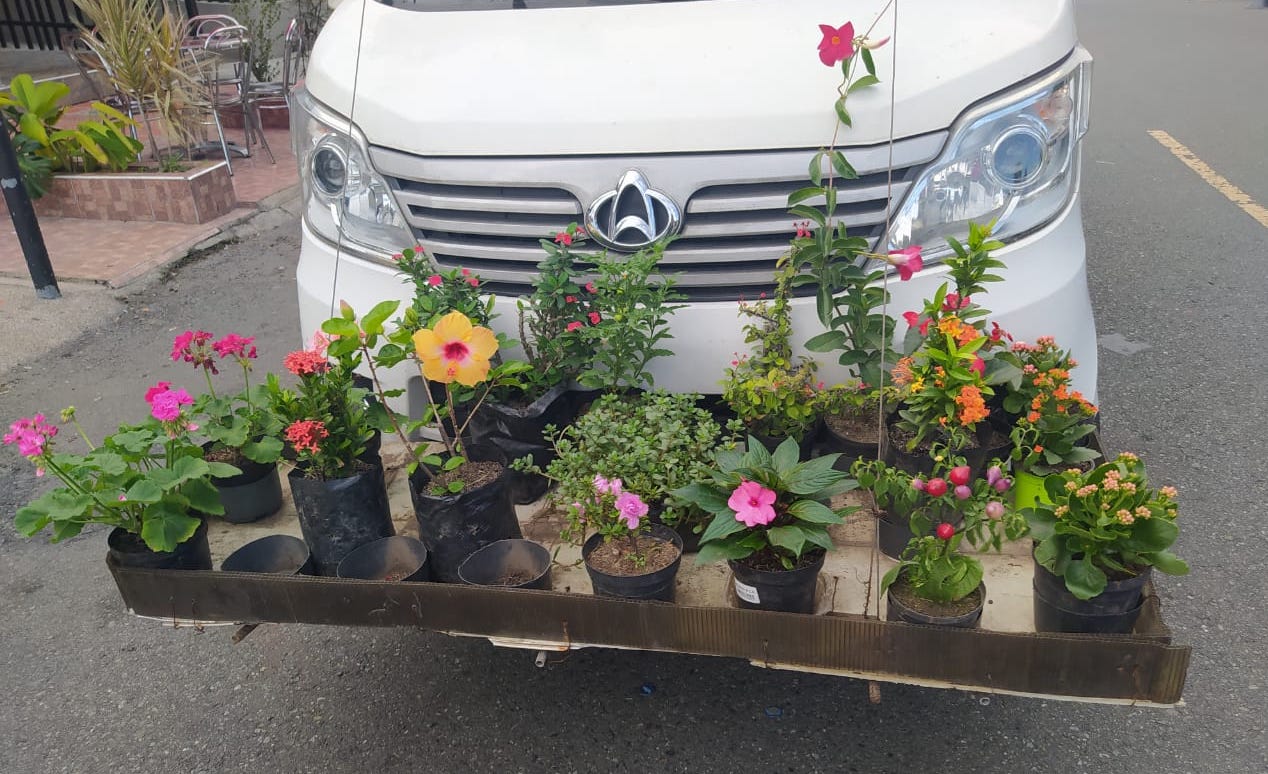 From July 1, Kunsthuis SYB welcomes Inge Meijer, who will be a guest until August 15. During her residency Inge is working on Community Garden; a project in which she researches how we can use public space – which is now reserved for cars – for gardens that everyone can use.
Inge got the idea for Community Garden after reading about the projects of the Dutch Fokke van Katwijk & Bram Bos and the Colombian Duván Antonio Ramírez. Van Katwijk & Bos sawed open the roof of Van Katwijk's Toyota Corolla in 1998, filled the car half full of garden soil, and put plants in it. The car garden existed for 6 years in the parking lot in Amsterdam Zuid. Duván Antonio Ramírez built an installation for his car with which he distributes his own cultivated plants through the streets of Medellín.
Both projects inspired Inge to think about how we can use public space differently; space that is reserved for cars, for example. During her residency at Kunsthuis SYB, Inge uses her own car as the starting point for a prototype of a Community Garden.
Inge also researches the function of (garden) communities by entering into a collaboration with the tropical greenhouse known as 'De Tropische Kas' in Beetsterzwaag. For example, she wants to volunteer to help water the plants in the summer period. "I want to learn about the plants and the functioning of this community by working with the green group, baking crew, and waterers of De Tropische Kas. These experiences will contribute to the design of the Community Garden. This project aims to look at space differently and to create new possibilities for greening through the imagination."
Her work process and research into the function of (garden) communities will be translated into a film. During Inge's residency, Kunsthuis SYB will be open on Saturdays and Sundays from 1:00 – 5:00 pm – subject to measures regarding the coronavirus.
About the artist
Inge Meijer completed a BA at the ArtEZ Academy of Fine Arts and Design in 2012 and finished the two-year residency at the Rijksakademie van Beeldende Kunsten in Amsterdam in 2017. Her work has been exhibited in institutions and galleries both in Amsterdam – where she is based – and abroad, including the Stedelijk Museum Amsterdam, UNSEEN, Museum Arnhem, and the Asia Culture Center in Gwangju, South Korea. Her work is represented by Galerie Akinci, and her publication, The Plant Collection, was selected for the Best Dutch Book Designs in 2020.
This project is kindly supported by: