1 February till 14 March 2021
Window exhibition 13th and 14th March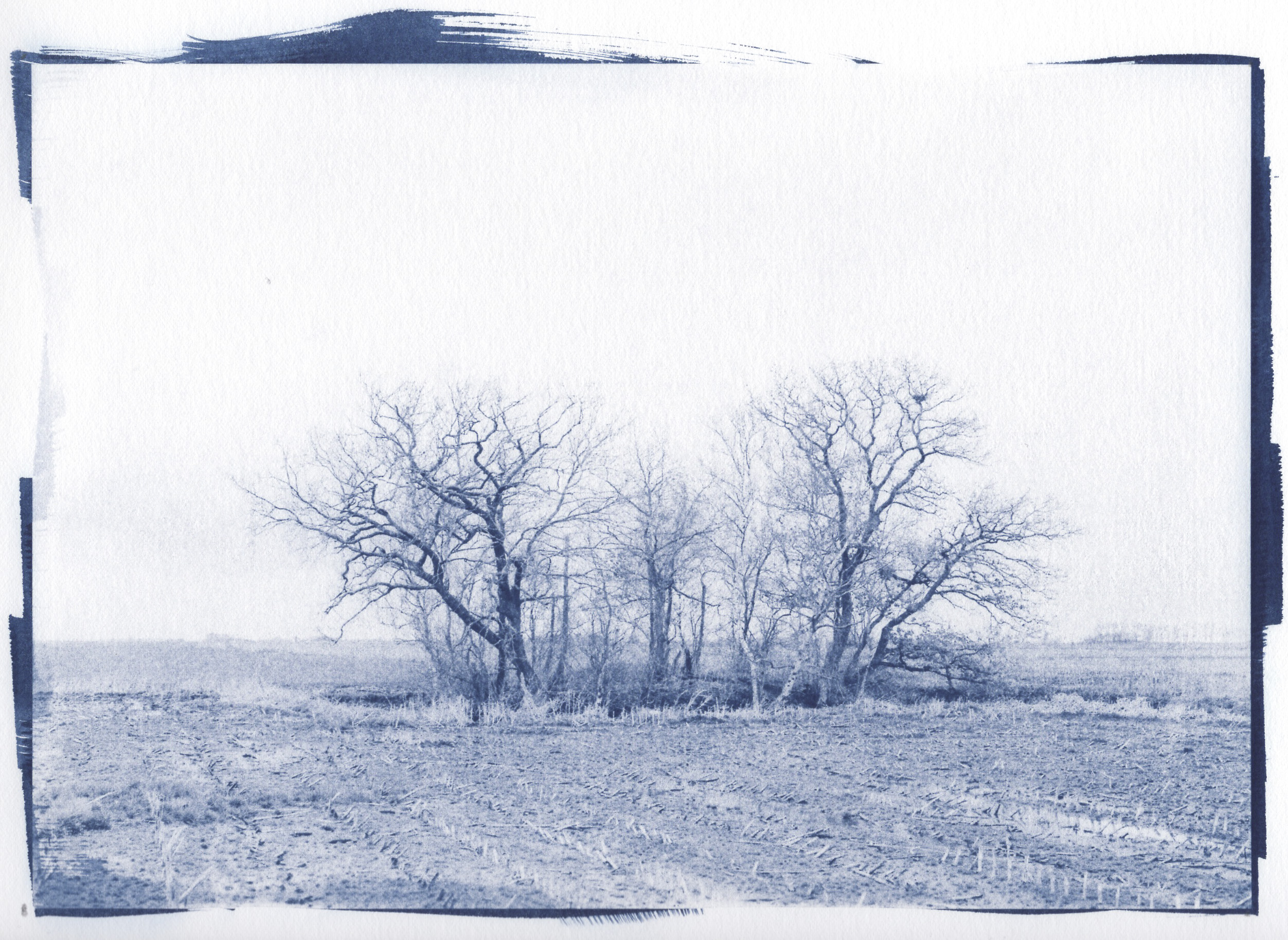 On 13 and 14 March photographer Janne van Gilst will share the results of her research into anthrax groves and cyanotype experiments in a window exhibition at Kunsthuis SYB (Hoofdstraat 70, Beetsterzwaag).
During her residency Janne collected information about the sites of anthrax groves, whose locations are only stored in the 'local memory' of Friesland; the people who live and work there. After calls in local media, Janne received numerous tips about anthrax groves near Beetsterzwaag. After photographing them, Janne developed these pictures and printed them in her self-built darkroom in Kunsthuis SYB.
She did this using the 19th century photographic technique cyanotype or blueprint, which slowly fades, a technique which she applied to draw a parallel with the registration and meaning of the groves: as time passes they will deform or disappear. In the window of SYB, Janne also presents a short audio story in combination with the photographs. For this, locals and experts from the area were interviewed. This audio piece can be listened to during the window exhibition and will be published online later.
Anthrax Groves
Until the 19th century, cattle infected with anthrax were often buried in the farthest corner of the pasture. A ditch or fence was then often placed around them to prevent healthy cattle from reaching them and spreading the anthrax spores. Because the anthrax bacteria can survive underground for centuries, the groves are still dangerous. Knowledge of where these groves are has never been recorded, but has been passed down from generation to generation within the farming community.
What remains are small islands of untouched nature, where no human has been for centuries. Stories about these groves have taken on a life of their own. People from surrounding areas know that they are dangerous, but often no longer why. This only adds to their secrecy.
About the artist
Photographer Janne van Gilst (Colijnsplaat, 1991) grew up on the island of Noord-Beveland in Zeeland. There, she developed an awareness of the landscape with which she is surrounded. Since studying Documentary Photography at the Royal Academy of Art in The Hague, she has been photographing her changing surroundings. In this way she reflects on the cultural zeitgeist and how it relates to the way we shape and experience our surroundings. Previously she worked on projects about regional stories, agricultural traditions and man's urge to control and subdue the landscape. Her work is regularly published and exhibited nationally and internationally.
—
Do you know where to find an anthrax or plague grove in the northern part of the Netherlands? Or do you know stories about them? If so, please contact Janne at jannevangilst@gmail.com or 06-13547778.
This project is kindly supported by the Province of Fryslan, the Mondriaan Fund, Opsterland and STROOM.