Deadline: 21st of March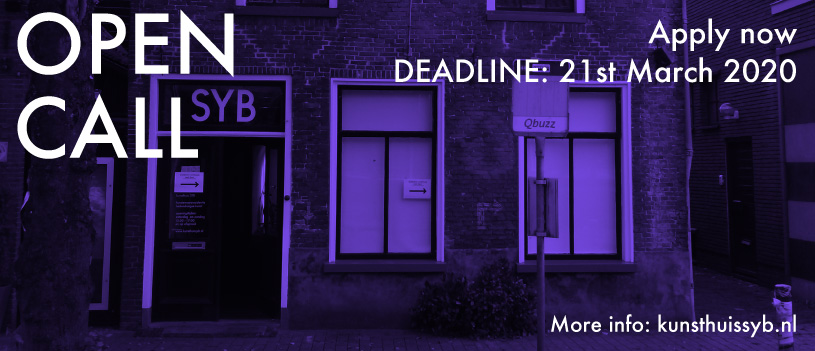 Open call for artists living and working in the Netherlands
Deadline: 21 March, 11:59pm

Click here for the application form
About Kunsthuis SYB
Kunsthuis SYB is an open, hospitable artist residency; a temporary home and workplace for visual artists in a quiet corner of the art world, where experiment, research, development and collaboration are a main focus. Kunsthuis SYB offers resources and possibilities; residents are given the time, space, budget, feedback and support to take the next step in their work.
Kunsthuis SYB has been a residency for almost 20 years, and has been an important place of development for many artists. Kunsthuis SYB is structurally supported by the Mondriaan Fund. Various public and private funds make residencies and projects possible with additional contributions.
Selected artists are invited to work and stay in the house on the Hoofdstraat, in the middle of the village centre of Beetsterzwaag (Friesland) for six weeks. Every weekend, the doors of SYB are open to the public so that locals and interested audiences have the opportunity to follow the work process. The work period is concluded with a presentation.
For the programming of 2021 and 2022 SYB is looking for artists (individuals or duos) who want to carry out a project in order to take a new step in the development of their work, or who want to use the space and environment of SYB to realise ambitions that cannot be realised elsewhere.
What do we value?
In addition to quality and excellence, we prefer project proposals that clearly show why the project should be carried out specifically in SYB (and surroundings). In addition, we would like artists to enter into a substantive collaboration within the project. This can be with an audience (e.g. a school, association or specific target group), an external partner (such as a specific organisation, entrepreneur or scientist), or one or more artists.
What do we offer?
Beetsterzwaag is located between Drachten and Heerenveen, in south-east Friesland near the Frisian Forests: an ancient cultural-historical landscape shaped by the way people lived – it reflects the history of the region. The village itself has 3500 inhabitants.
SYB's local network provides access to all kinds of associations, organisations and companies and people with special (old, disappearing, specific) skills and knowledge (such as the eel fisherman, the reed museum, growers of old indigenous seeds, the tropical greenhouse, farmers, etc.).
During the work period the artist has access to the house, which consists of a large work and exhibition space on the ground floor, a kitchen and living room on the first floor, two bedrooms and a bathroom on the second floor. Behind the house is a garden. Take a look at the photos of the ground floor here.
SYB offers residents a fee, organizational guidance, artistic feedback from SYB's programming committee and SYB Circles, publicity and a (final) presentation in SYB.
Application procedure
The application for a residency in SYB consists of*:
A project proposal that defines the research, goals, working method and the desired collaboration (max 1000 words). Please indicate when you would be available for a residency in SYB in 2021-2022.
Documentation (PDF) including an artist statement (max. 600 words)
Cover letter; the reason for your interest in a residency in SYB and how you would like to develop your work or practice during the residency in SYB (max 500 words/ 1A4).
A CV with the following information: full name, date and place of birth, nationality, place of residence and workplace.
Click here for the application form
Your proposal will be carefully considered by SYB's team, which consists of the director and the programming committee. By the end of May at the latest, we will let you know if you have been selected.
*Project proposals that are late or incomplete will not be considered.