23 till 23 October 2010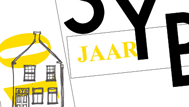 On October 23rd, 2010, Kunsthuis SYB celebrates its 10th anniversary with a symposium and a party.
The symposium 'Our House in the Middle of the Street' concentrates on subjects that were brought up by the diverse projects that took place in SYB since the start of the residency, formulated along the lines of the various uses of the house. Six guest speakers will reflect on the themes of Nesting, Hospitality, Open House, Social Politics, Playground Structures and Private / Public, aiming to open up discussion and focus on the issues raised within them, to establish a relation with a broader contemporary art theory scene with special attention for project art. Kunsthuis SYB will function as a performative playground, hosting cross-disciplinary speakers and guests conversing on various locations in Beetsterzwaag and the house itself.
The symposium will be available to all online through Live Streaming.
At the evening party various performances will be given by artists who recently worked in SYB.
A tour bus between Rotterdam, Amsterdam and Beetsterzwaag will service guests from afar. Register via info@kunsthuissyb.nl.
'Our House in the Middle of the Street' is developed by Maja Bekan and Irene Kromhout, artists and member of SYB's programming committee, with the generous support of the Artclub and Maartje Peters, coordinator. Sarah Bogers is responsable for the graphic design. Technique: Siebe de Boer.