19 June till 3 July 2013
sober & lonely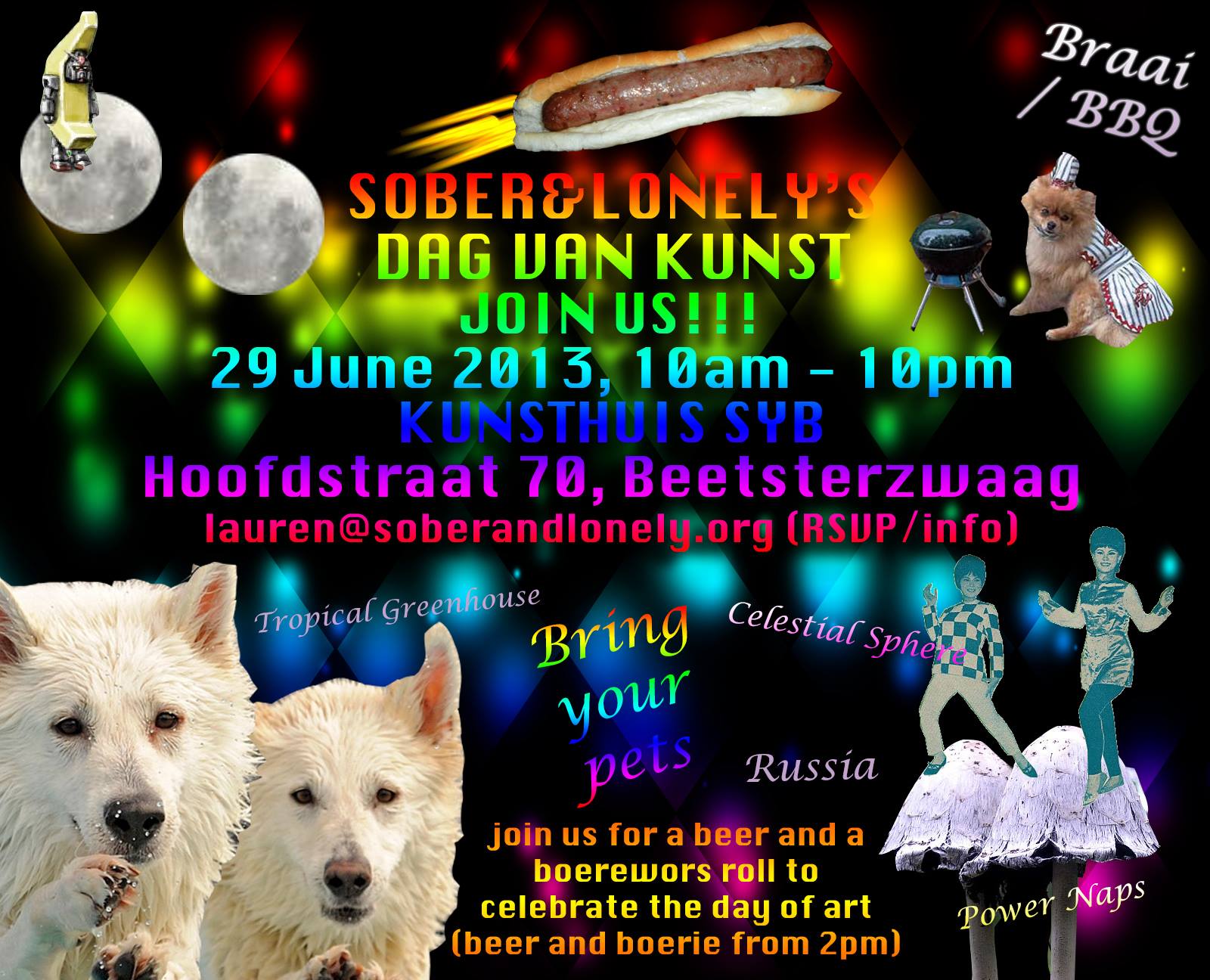 Invitation
Join Sober & Lonely at Kunsthuis SYB on Saturday the 29th of June, anytime between 10am and 10pm. There will be real life and long-distance interactions and interventions with other artist-run spaces from near, far, and farther, covering a variety of subjects including asteroids, breakfast, critical pedagogy and dolphins. There will also be presentations by the artists who participated in Sober & Lonely's 24 Hour Springtime Residencies, with projects that include ideas around collaboration, pancakes, queer rap, and the universe.
To make your journey to Beetsterzwaag really worthwhile, this all falls on the same day as the village's annual Dag van de Kunst, which happens to be Russian themed this year, promising Tsar Nicholas II with Cossacks on horseback and special opening act at 11am! At around 2pm the braai (BBQ) in our back garden will be ready and we'll have some boerewors rolls and beer to share with you. You're also welcome to bring your food of choice to put on the braai.
If all this isn't reason enough to come to Friesland, we invite you for a late afternoon walk to show you some of our favourite things in Beetsterzwaag, which include the Tropical Greenhouse, deer, the forest paths, miniature ponies and goats, a specific stork's next, and a platform to watch the landscape from, among other things.

Press release
The Sober and Lonely Institute for Contemporary Art (SLICA) is an artists' initiative without any regulations or limits: there is no recipe, no well-defined method and no permanent place of residence. SLICA organises residencies that last a few months as well as residencies that last only twenty-four hours. SLICA arranges publications, just as easily as it fixes dinner. It facilitates projects with cats, screens films about shapes and furniture with legs, establishes a club for synchronised running, organises group-siestas and offers space to experiments with people and animals.
The artists Robyn Cook and Lauren van Gogh are SLICA's founders. Since 2005, they have been closely working together. However, in 2008, Lauren moved to Ghent, Belgium, while Robyn stayed behind in Johannesburg, South Africa. Their latest joint project was 'An attempt to Create a Telepathic Connection for Long Distance Relationship'. During their years apart, both artists spent time on exploring the possibilities of telepathy. Subsequently, the telepathic space became the key to many SLICA projects: it offers the possibility to create work that is independent of financial means or complex logistics, and solely based on sincerity. For Lauren van Gogh and Robyn Cook, telepathy is an obvious way of working around the barriers of time and space that are inherent to the contemporary South African world of art.
This spring, SLICA settles (temporarily!) in Beetsterzwaag. The Frysian village will serve as the Northern starting point for several journeys to like-minded artists and artists' initiatives. Gradually, a dialogue will emerge that will generate the material for new ideas and projects that SLICA will slowly but surely spread all over the world.
For more information about SLICA, visit their website www.soberandlonely.org.There you will find an archive with all their projects and a PDF-version of their publication ANNUAL 1 April 2011 – 1 April 2012 with a collection of their residencies, events and projects, artist's texts and an interview with the initiators.
Work periode:
15 mei t/m 28 mei
Opening hours:
every saturday and sunday from 13:00 till 17:00.