24 October 2012 till 2 January 2013
Residency Valerio Del Baglivo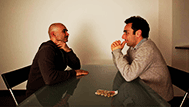 Artists' residencies are places for isolation and concentration, where – by breaking from a daily routine – new insights can be found. An interruption from the daily routine can also be achieved without isolating oneself. In collaboration with others, you can discover ingrained behavioural patterns and thus reach a better understanding and more freedom of choice in this regard.
During 'Pay Attention, please', artists and visitors perform physical and mental exercises to reach a state of 'inattentive attention'. Questions one could ask: are we able to disrupt our daily routines and experience a different rhythm of life? Can art enable one to accomplish a type of concentration in which our attention is focused on the process instead of the goal? And what happens when the content of a work of art is about concentration itself?
'Pay Attention, please' is inspired by 'ON Residency or an (in)visible production' (by curator Angela Serino in Kunsthuis SYB) and the project 'Decompression Summer Camp' (a collaboration of Valerio Del Baglivo and Radical Intention in Corniolo Art Platform in Tuscany).
'Pay attention, please' is a collaboration between FARE, Frigoriferi Milanesi and SYB and consists of several public gatherings in Milan, Beetsterzwaag and at the Kunstvlaai in Amsterdam. Angela Serino is the host in Milan, while Valerio Del Baglivo will welcome three artists in Kunsthuis SYB, Beetsterzwaag. The artists will each provide an 'exercise' for guests and those who are interested. Whether you are an experienced artist, an art expert, a nonprofessional, young or old – it does not matter, because everybody will feel slightly awkward.
Programme in the Netherlands:
Valerio Rocco Orlando, 'Endless', Sunday 11 November, from 4 pm to 6 pm, Kunsthuis SYB
Which relationships can help to build a better society? For Valerio Rocco Orlando, this question is the starting point for a discussion with participants about relationships, solidarity and identity. Part of the contributions that are made during the discussion will be included in his book 'Endless'.
Marwa Arsanios, Saturday 17 November – Sunday 18 November, from 4 pm to 6 pm, Kunsthuis SYB
Through the production of a collective collage of white paper, an unexpected interaction will occur in the group. How can you deal with each other, the space and the material, without speaking on a regular basis?
Italo Zuffi, 'Toothpick Geometries', Wednesday 28 November, from 4 pm to 6 pm, Kunstvlaai (Amsterdam)
As part of SYB's presentation at the Kunstvlaai, Italo Zuffi carries out the collective action 'Toothpick Geometries'. This is a collective exercise in concentration and collaboration in which visitors continuously form changing geometrical figures with tooth picks that they hold in their mouths. At the same time, an abstract cutout of this scene is projected on a screen.
Working period with presentations:
24 October until 5 December 2012
Opening hours:
Every Saturday and Sunday from 1 pm to 5 pm
Window presentation and Christmas break:
6 December 2012 until 2 January 2013