19 February 2017
Final presentation Müge Yilmaz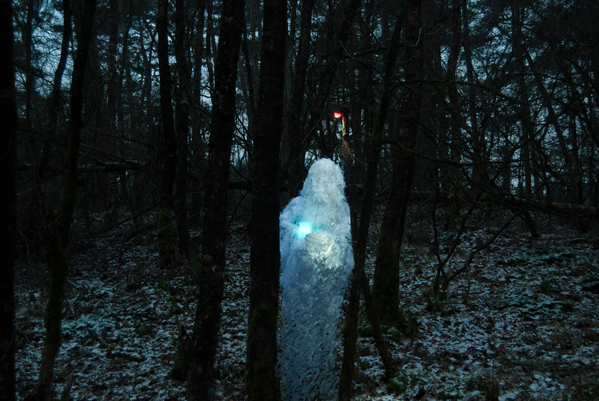 Please join us for the final presentation of Müge Yilmaz on Sunday 19th of February at 17:00h.
For Müge Yilmaz, the artistic practice is a method to create a profound sense of connectivity as a condition for political change. During her stay in Kunsthuis SYB, Yilmaz focussed on the tendency of modern man to be excessively interested in himself, questioning whether and how this narcissism can be combatted with a certain form of solidarity and atavism (a return of supposedly lost primitive characteristics). During her residency, she researched whether this process can be stimulated in a ritual practice that is directed at leading human consciousness back to an ancient mode of perception and experience; an unstructured form of spirituality.
During the first weeks of her residency in Beetsterzwaag, Müge Yilmaz worked on a series of propositions. In the second part, she gathered a team of performers in ghillie-suits and arranged them in the woods of Beetsterzwaag as a tableau vivant. Using different configurations, the group played with positions, interactions and readings of Yilmaz's propositions as though it were a manifesto. The reactions, feelings and opinions of the performers were largely decisive for the development of the creative process, and ultimately the result which will be presented in Kunsthuis SYB on the 19th of February.
! Please wear warm clothes, walking shoes and bring a hand torch or flash light. There will be a walk between 6:00PM – 6:30PM!