17 January till 7 February 2014
Residency Laura Bolscher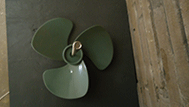 A direct flight Majorca – Beetsterzwaag; a more ridiculous flight schedule is hard to imagine. Nevertheless, Beetsterzwaag will soon have an airport. Or rather: a flight base. Where most will see Beetsterzwaag as a natural point of departure, artist Laura Bolscher on the other hand sees this small village in Friesland as a place of retreat. Playing with the double meaning of the word 'flight', Bolscher creates a place in this quiet village for a constant coming and going. This includes the necessary facilities: Kunsthuis SYB will shortly not only be housing artists, but also travellers, stewardesses, air traffic controllers, taxi chauffeurs, souvenir shop holders, cleaners, customs officers etc.
However, what the flight base will actually look like and how all these services will be fulfilled remains a question. For Bolscher, it's not so much about the destination as the journey towards it and the role that the artist plays in this. In this sense, the artist is the instigator of activity. But can an artwork also function as a company? And which role will the artist have once the company is up and running? And what is actually the role of the public? Similar questions already transpired during the creation and presentation of Bolscher's recent installation 'The Aimless Discussion'. This work comprised a collection of objects that could be activated, moved and combined by the public as they wished. The artist walked around and gave instructions and explanation like an Ikea worker with a do-it-yourself kit.
Laura Bolscher graduated last year with an installation that managed to attract attention from the Dutch press and was awarded the Klaas Dijkstra Academy Prize, the jury prize for a Fine Arts graduate at The Minerva Art Academy (Groningen). Bolscher's objects, installations and videos have an infectiously playful and searching character. The work is capricious and impressionable. "I want to be fluid", the young artist writes in her statement, "fluid as in the opposite of fixed." With this, Laura Bolscher brings an energy to Kunsthuis SYB that embodies a world of possibility.
During the three-week residency in SYB, Bolscher will work with a trio of artists (one each week) whose work deals with notions relating to the space, the experience of the space and the manner in which the space is used: sculptor Marjet Zwaans, filmmaker Liz Dautzenberg and visual artist Anouk van Reijen.
Entirely in keeping with Beetsterzwaag tradition, the residency will ultimately result in a float on behalf of Kunsthuis SYB in honour of the 2014 King's Day parade.
Working period:
17 January – 07 February 2014
Opening times during working period:
every Saturday and Sunday 13:00 – 17:00
Celebratory presentation:
saturday 1 February at 14:00