10 March till 15 April 2018
Rosie Heinrich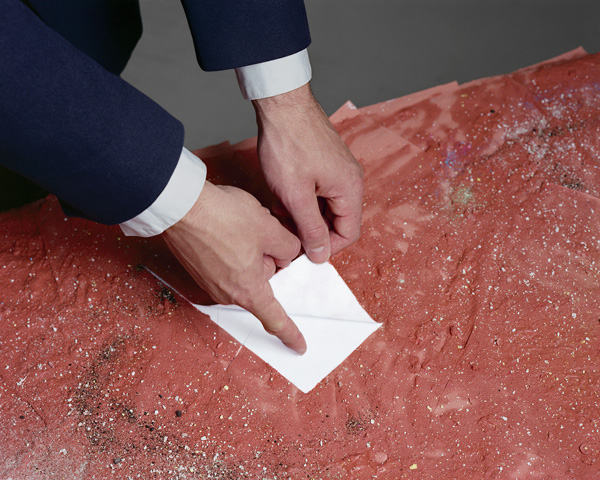 We construct our reality by telling stories. And when faced with something that is inconsistent with our story, we most often find ways to reframe it, construe it to our convenience, or dismiss it. 'Alternative facts,' so to speak. But sometimes events take place that differ so profoundly from what we have told ourselves that our whole story seems in danger of caving in. When the banks collapsed in Iceland in 2008, not only did the country fall into a deep recession, they also found themselves in a 'cultural crash'; the country's collective reality turned out to be an illusion, a construct: fiction.
Rosie Heinrich (1981, UK) is fascinated by this process of 'self-storytelling' and the ways in which language shapes this telling. We always need heroes is an ongoing, multidisciplinary project in which she explores the social and psychological dynamics of the Icelandic 'Crash'. Over a period of two years Rosie Heinrich interviewed numerous Icelanders about the build-up of the boom years, the disillusionment in the wake of the Crash and the ways in which Icelanders began building new stories. She gathered these testimonies in an extensive audio archive, alongside photographs and video imagery of (perforated) landscapes and architecture shot in Iceland, experiments in her studio and a growing collection of books and articles. She collaborated with a choir and Birna Bragadóttir who takes the role of a narrator, performing Heinrich's script while seated in the National Library of Iceland: 'the house of words and stories.' These elements all come together in her video works: broken stories, sentences and words, punctuated with sighs, stutters and hesitant silences, the moments in which words fail us.
This meta-dialogue is marked by a distinctive notation system as well as alternative texts, both of which are integrated within the subtitling of the work. These are the building blocks of a story that Heinrich combines with the building blocks of a tangible cultural landscape: images of sand, clay, lava, rock and pigment. The video works (and the upcoming eponymous artist book) are full of holes, empty gaps and space for alternative interpretations – referencing the interplay of sublime rhetoric whereby the orator and listener collaborate to make meaning, in between the lines.
In Kunsthuis SYB, Heinrich roots into the rich archive of We always need heroes to further experiment with these spaces of interpretation and how the voice shapes our perception. In addition she will collaborate with musician, composer and artist Katrin Hahner to make a new video work inspired by a particular characteristic of the Icelandic spoken language: of saying 'yes' (já) with an inhaled breath: an affirmation that is simultaneously ingested, cancelled out: to eat one's words.
In collaboration with Zomaar Radio, an experimental radio station with a focus on the northern Netherlands, Heinrich will produce a programme together with Céline Matthieu from Kunsthuis SYB's writer's programme. In conversation with Eduard Knotter, SYB's translator and Friesian linguist, she will explore the characteristics of the Friesian language, the ingestion of words and how language (and mistranslations) can shape our perception of the world.
With a focus on the role of language in the construction of a collective narrative Rosie Heinrich's residency at SYB fits perfectly within the thematics of Leeuwarden's programme as Capital of Culture 2018 and the second Triennial of Beetsterzwaag (6–9 September): 'iepen mienskip' (open community). The Triennial connects this theme to the ancient concept of the 'almende' and the centuries-old pseudo runic script Oera Linda, each resonating with concepts found in We always need heroes: from 'self-storytelling' and the falsification of histories, to breaking open notions of landscape in order to re-evaluate our understanding of shared responsibility and communality.
The residency will be wrapped up with a presentation on Saturday 14 April at Kunsthuis SYB. Developments of the work in progress can be followed on Rosie Heinrich's website: www.rosieheinrich.net. The date of the broadcast on Zomaar Radio will be announced shortly.
Rosie Heinrich lives and works in Amsterdam. She received her Master in Fine Arts at the Dutch Art Institute, were she was also member of the research collective APRC. Currently she is a fellow of THIRD Cycle Research Group at the DAS Graduate School. During 2015 and 2016 she was artist in resident at SÍM, The Association for Icelandic Visual Artists, in Reykjavík for ten months, where she began her long-term project centred around the Icelandic Crash: We always need heroes. For more about Rosie Heinrich see: www.rosieheinrich.net
Katrin Hahner lives and works in Berlin. She trained in stage acting for four years, received her Master in Fine Arts at the Akademie der Bildende Künste in Stuttgart, and subsequently continued her studies at Kunsthochschule Berlin Weissensee. Hahner is a visual artist, musician (singer/songwriter aka Miss Kenichi), composer and performance artist. For more about Katrin Hahner see: www.katrinhahner.com / www.misskenichi.com