13 July till 14 November 2010
Open Call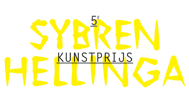 5th Sybren Hellinga Art Prize 2010
Call to visual artists who graduated in May 2005 or later
DEADLINE ENTRY Tuesday 13 July 2010
For the fifth time the Sybren Hellinga Stichting distributes her incentive prize for young artists. Artists who are residential in The Netherlands and who have graduated from an undergraduate art degree after May 2005 and before August 2010, as well as autodidacts who have started as a professional artist in this period, are eligible for this award. The award consists of an amount of 3000 Euro.
The Sybren Hellinga Art prize is distributed every 3 years. In 1998, Gallery owner Sybren Hellinga founded the prize as his life task in stimulating uncompromising art. The Sybren Hellinga Stichting traditionally hands the organization of the Art prize to Kunsthuis SYB, Artists Residency in Beetsterzwaag.
Work method
Kunsthuis SYB's programming committee makes a preselection from the entries. The committee will nominate five artists from this selection. These artists may stay at Kunsthuis SYB for three weeks in order to work on the presentation of their work. If desired, they can add new work or they can adapt an existing piece of work on location. In addition, the artists are expected to be present in the weekends in order to inform the audience about their work. On the day of the prize distribution, the committee will give each artist the opportunity to amplify on their work personally. After this, the committee will withdraw under consideration of a winner.
Dates:
-in week 36 the committee will choose 5 nominated artists
-on Friday 24 September the nominated artists will be invited in Kunsthuis SYB in order to get acquainted and to list plans and wishes.
-from 27 October until 14 November will be worked on an exhibition of the nominated artists and the original work will be displayed to the audience
-the prizegiving is on 14 November 2010 in Kunsthuis SYB
procedure
Enrolment
In order to enroll it is exclusively needed to make use of the digital enrolment form.
Documentation
Choose from:
– 7 images digitally delivered on the site (as big as possible, but max. 1024 pixels wide x 768 pixels high)
or
– One film of a maximum of 7 minutes to be sent by post