17 November 2010 till 2 January 2011
Residency Mathilde van Beekhuizen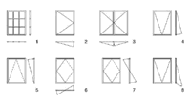 If your visual field would actually be a kind of space, then what would this space look like? Mathilde van Beekhuizen will create different kinds of spaces for the visual field in the display window of SYB in the coming weeks; miniatures consisting of walls and a ceiling. The viewer can view every space, just through the movement of their eyes. In this way, Van Beekhuizen's installations are searching for the farthest borders of your visual field.
Behind the display window of SYB, Van Beekhuizen will build different corridors and rooms for the eye. Some corners have small mirrors through which you can look around the corner, and the illumination varies in different places of the visual field. The construction as a whole is also visible, as not all windows are used, and, so, there will remain view on the fore hold of SYB and the installation.
On 18 and 19 December Van Beekhuizen will present the end result of her working period. The window installation can be viewed by passers-by until 2 January.
Mathilde van Beekhuizen (Venray, 1974) first studied furniture restoration and later attended the Gerrit Rietveld academy (2005). In her installations and photos she makes everyday details and unexpected rhyms in form visible in a subtle way. She was artist-in-residence at NAIRS (Scuol, CH) and in the North of Amsterdam and she has exhibited amongst others in Amsterdam and Zürich.
Working period:
17 November until 17 December
Opening times working period:
every Saturday and Sunday from 1 pm to 5 pm
Presentation:
Saturday 18 and Sunday 19 December from 1 pm to 5 pm
Festive ending and 'artist talk':
Sunday 19 December at 3 pm
Window presentation: 20 December until 2 January