1 April till 16 May 2021
Residency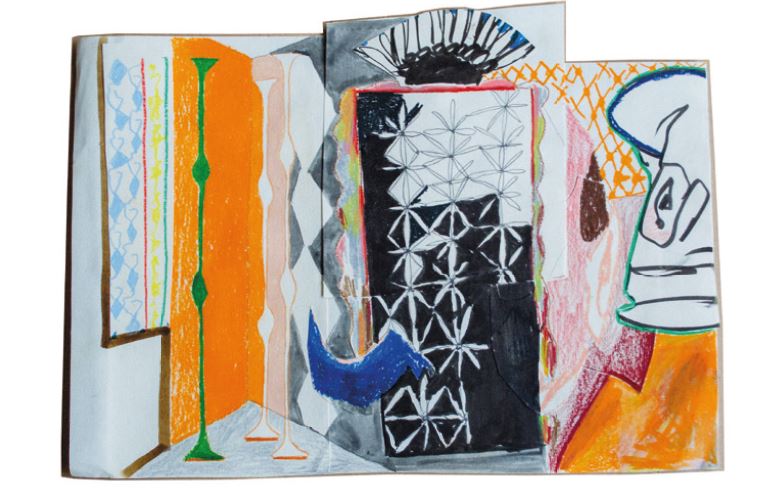 The video A Smoker's Theatre by Caz Egelie and Jesse Strikwerda can be seen via this website on Saturday 15 and Sunday 16 May .
If you'd like to pay Caz and Jesse a visit this weekend, please let us know by email: info@kunsthuissyb.nl.
___
Scene 1. From behind a curtain of smoke a narrator emerges, hands reaching towards the audience, onto the stage which at first resembles a market square, and later on a colorful prison cell. "Believe me" is proclaimed by the narrator, as written in the script.
[…]
The Narrator: I'm imagining a story with such vastness, such enormous capacity, and such an encompassing plot that it can't exclude a single narrative, point of view, or event.
[…]
The Bird Watcher: oh wow.
[…]
The Bird Watcher: huh oh!
[…]
The Messenger: The gossip spreads itself, a generation skips themselves and the protagonists don't return.
[…]
–
In April and May, Caz Egelie and Jesse Strikwerda will be staying at Kunsthuis SYB. During their residency, they will work together to create stages and props that will form the backdrop for an ever changing play. Caz and Jesse will be inviting new (guest) actors to play a different role each time. Their concept is based on the Frisian tradition of Iepenloftspullen (open air plays), questions surrounding the identity of the artist, and Bertold Brecht's ideas about The Smoker's Theatre. Due to current corona-restricitions, they plan on presenting their project on video, which will be shown in SYB at the end of their residency (from the 13th till the 16th of May).
Caz Egelie (1994) creates installations, performances, two-dimensional works and videos. In their multi-disciplinary body of work the visual vocabulary of the works is combined with Caz' conceptual approach, and their appetite for theatre and performativity. By referring to art history and other artists, and taking on unusual ways of production and presentation, Caz plays a game of ping-pong with real and fake, fact and fiction, reproduction and 'the artist's signature'. By denying categorisations like these, Caz engages in institutional critique from the position of the jester, resulting in what one could call 'institutional jest'.
Jesse Strikwerda (1991) creates installations and sculptures in which the manipulability of reality is central. Unraveling the layers of a constructed reality is the starting point for an investigation into the framework of an image. Constructions get pushed over, raised up, hidden and shown to an audience. Backdrops are hung in front of each other, as a concealment of the underlying structure, and then lifted again by the artist to provide the same structure with a stage. Elements from reality (building materials, party items, found objects) are interspersed with images (drawings, comic-like elements and clay objects), creating an exciting game in which it becomes painfully clear in a playful way that everything can be made and dismantled.
This project is kindly supported by: