3 August till 13 September 2015
Residency Rieke Vos, Kasper Jacobs, Ilke Gers, Frank Koolen, Eric Giraudet de Boudemange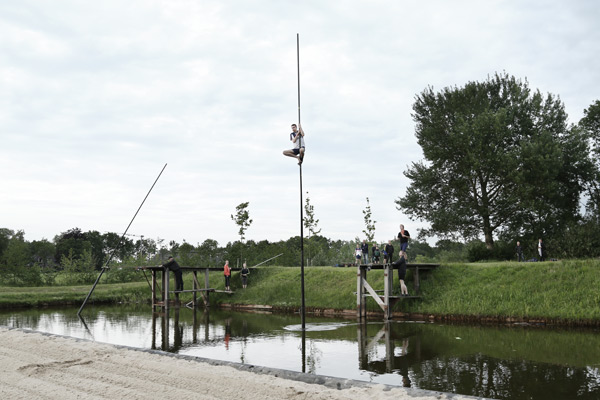 The end of July is in sight as the tour madness slowly reaches its peak. Like flies the sponsors, doping control, cycling press and podium girls circle around the sweaty cyclists. In close pursuit are the spectators. Sport unites. But the extensive professionalisation, commercialisation en globalisation of big events, like the Tour de France, almost makes you forget what else sport can be: an expression of local, cultural identity that offers as much room for competitive instincts as for the impulses of play, solidarity and fun.
Local sport traditions have a way of connecting people. Something art can benefit from, says Berthold Brecht in his essay Mehr Guten Sport (1926). Brecht argues that sport should be more like art, and that art, in turn, should me more like sport, like the old duals and competitions during sacred parties and proceedings. Till the 19th century, cultural philosopher Johan Huizinga writes in Homo Ludens (1938), sport was strongly connected to local rituals, beliefs and artistic expression.

In Festival of Sports, curator Rieke Vos explores the contemporary links between sport and art. She deploys games, improvisation and creativity as an antidote to a society driven to achieve efficiency. Festival of Sports is a multi-annual research project that includes a string of events at home and abroad. Rieke Vos has surrounded herself with a team of artists, designers, architects, theatre makers, choreographers and writers. The composition of the team changes depending on location and context, but they all share the same fascination for sport and games as a cultural manifestation.
This first edition of the Festival of Sports, the Friesland edition, focuses on traditional Frisian sports such as kaatsen, fierljeppen and skûtsjesilen. Vos asked the participating artists to reimagine existing sports, invent new ones or find other ways of reflecting on athletic achievements and the entourage of sport events.                  
Rieke Vos (1981, Arnhem) is a freelance curator and writer in Amsterdam. She initiates cultural programmes and exhibitions and works for various organisations both locally and abroad. Her projects, mostly in public spaces in public spaces, develop along the borders of art, architecture and urban life and look for poetry in the mundane. In 2013, Vos was involved in the Istanbul Biennale and co-curator of the exhibition Artificial Amsterdam at the Appel Art Centre. Between 2010-2011 she was curator at SKOR | Foundation Art and Public Space, and she writes, amongst other, for Stichting Sonsbeek and Metropolis M.

Ilke Gers (New-Zealand, 1981) is a graphic designer and former tennis pro. She currently works at the Jan van Eyck Academy on her core research Techniques of the Body, on how exercise, physical endurance and cultural determinacy can resonate in graphical language. She developed a number of new sports and games in which spectators play a key role in developing rules, strategies, tactics and methods. For Festival of Sports, Gers will specifically look at the physical, cultural and sportive elements of kaatsen in collaboration with schools and kaats clubs of Beetsterzwaag and surrounding areas.

Eric Giraudet de Boudemange (France, 1983) is a visual artist with an almost ethnographic approach to traditional sports and folklore games. He makes contact with members of a certain club or community and accompanies them during their leisure activities. In his observations he pays special attention to the accompanying gestures, customs and interpersonal manners. Based on these observations, he uses videos and photos to create an own narrative in the shape of a performance or installation. For Festival of Sports, Eric Giraudet de Boudemange focuses on fierlejappen. As a departure point he uses his earlier movie An Essay on Dutch Landscape (2013), which offers a staggering visualisation of the interplay between body and landscape in this characteristic Frisian sport.
Frank Koolen (Netherlands, 1987) and Kasper Jacobs (Netherlands, 1981) are visual artists. During their residency in Curaçao, they recently collaborated on the movie Play Curaçao, an easy-going portrait of an ordinary Saturday on the Island. The dry, windy island forms the backdrop of various social rituals that shape the local culture, such as dance, karaoke, chess, motor cross, kite flying, cycling or an old-timer rally. For Festival of Sports, Jacobs and Koolen developed a sequel to Play Curaçao in which they turn their focus to recreational activities in Friesland.
Festival of Sports in an ongoing research platform initiated by curator Rieke Vos, developed in collaboration with TAAK