8 January till 5 February 2010
Residency Nina Yuen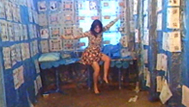 The American performance- and video artist Nina Yuen will enter the new decade in Beetsterzwaag through a thorough analysis of the morning ritual. First, Yuen observes the morning habits of friends and strangers in great detail, such as waking, brushing teeth, stretching and breakfast. Then she attempts to reenact these actions in her own decors, in which she introduces attributes made by herself, like a new kind of comb, towel or coffee machine. In this way she tries to give the intimate, precise, yet routine actions belonging to the start of the day all the attention they deserve.
Good morning Friesland is a kind of tribute to the morning, as a moment of optimism and renewal. Yuen seeks out the personal variations on the morning routine but also wishes to draw attention to the collective of rising that takes place in every community, every morning behind each door.
During the celebratory conclusion to the project, Yuen will present both her collection of documentary material and the final film showing her reenactment.

Nina Yuen (Hawaii, 1982) completed a residency at The Rijksakademie Amsterdam in 2009. Yuen has previously focused on daily routine – sleeping, cleaning, eating and washing – in her films Clean and White Blindness. Her work circles around faulty personal memories and collective untruths both belonging to herself and others. In 2009 Yuen's work was shown amongst other places in Juliette Jongma Amsterdam and Lombard-Freid Projects New York.
Residency:
January 8 to February 15, 2010
Opening times:
Saturday & Sunday 13:00-17:00
and by appointment
Celebratory presentation:
Sunday February 7 at 16:00
Exhibition period:
Saturday February 6, Sunday 7, Saturday 13 and Sunday 14, 13:00 – 17:00
SYB maintains an open process by opening its doors to the public every weekend during each residency.