6 November till 18 December 2017
By Menno Vuister, English translation: Sanne Lauriks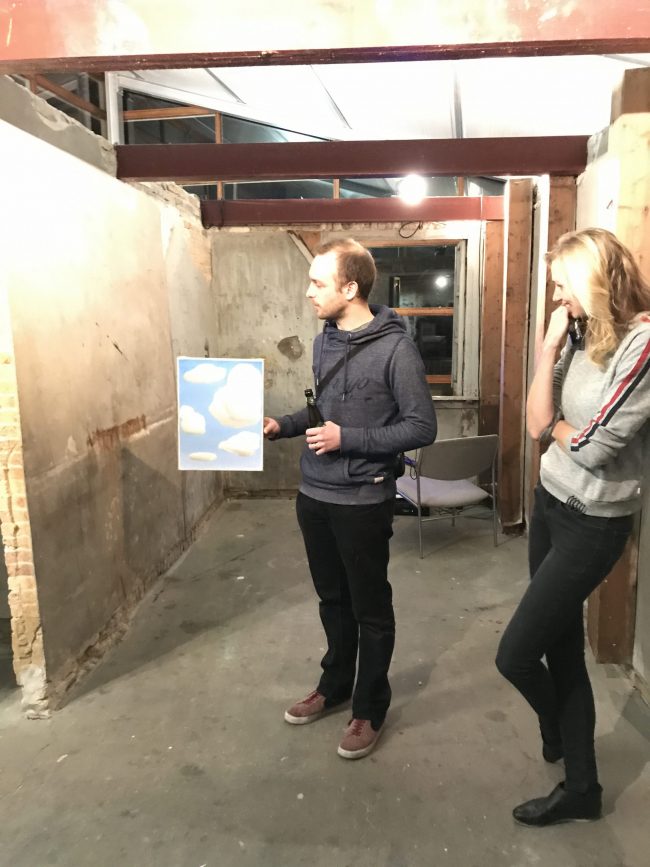 In 2016, the Young Academy and the Royal Netherlands Academy of Arts and Sciences (KNAW) joined forces to initiate digital platform Mingler. Mingler is a platform that, similar to a dating site, compares profiles of artists and scientists through a matrix of algorithms in order to "match" experts from different disciplines. The goal of Mingler is to break down the ancient wall that has traditionally divided the broad strokes and big ideas of the art world from the precise and exacting ideas of science. This will enable researchers and practitioners to tap into the expertise of other disciplines and to enrich each other's professional practice.
As part of Mingler's pilot phase in the last quarter of 2017, the Joint Forces project was developed with input from the Frank Mohr Institute – the MFA of the Minerva Art Academy in Groningen – and artist residency Kunsthuis SYB in Beetsterszwaag. To test the application, three alumni of the Frank Mohr Institute were selected based on their research practice. They set out to establish contact through Mingler with scientists who could possibly offer positive influence and support to the varied facets of their artistic practice. In addition to access to the application, the three artists, Annegret Kellner (1979, Germany), Thijs Jansen (1986, the Netherlands), and Emi Kodama (1980, Canada), were given a two-week work period at Kunsthuis SYB. During this work period, the artists were able to further immerse themselves, to initiate new collaborations through Mingler and, wherever possible, to create new work.
While there have been many attempts in the past to bring art and science together, Mingler has an obvious advantage in its similarity to a dating site, this fits in with modern-day practices of how people connect with one another, both socially and professionally. Mingler is an extraordinary project not only in the context of communication, profiling and self-profiling, and professional identity but especially in the context of an increasingly freelance culture and a work ethic in which the project has become the leading unit.
While it may seem that Mingler offers access to many new sources of knowledge for a researching artist, it must be said that it plays out differently in practice. Similar to relationships made in the real world or on other dating sites, the connections made on Mingler require mutual approval to validate a connection. This not only means that a collaboration can only occur when both parties are in concord, but also that a seemingly perfect match may lead nowhere, and that there is space for Mingler to create connections that are potentially more special, surprising, and refreshing for the professional participants. Based on her project proposal, Annegret Kellner initially found a seemingly perfect match between her and a scientist, only to discover after a brief email exchange that the interest was not mutual. This may seem like a mark against an application that was designed to promote interdisciplinary contact, but it actually succeeds in showing that while there are tough disciplinary boundaries to overcome, in this instance the platform pushed the participants to look further than their own interests and practices. For Kellner, the first mismatch led to a more positive result, as she made contact with Dr Koert van Mensvoort, who has a degree in science (MSc) as well as in arts (MFA) and who introduced her to the concept of "next nature".1
Both in the nature of his projects and the organisational constructs in which he realises them, Van Mensvoort's artistic work combines creative approaches to science, innovation and design. His work seems to operate outside the realms of contemporary art. His concept of art might even be completely outside of the framework in which Kunsthuis SYB or the Frank Mohr Institute, for example, define art. Van Mensvoort describes himself as an artist and a philosopher, but his artistic practice is difficult to compare to the autonomous, visual and sculptural nature of Kellner's work. For example, Van Mensvoort produced a cooking book on how to create artificial meat (The In Vitro Cookbook / Het Kweekvlees Kookboek, BIS Publishers, 2014), and he developed a project around a fictitious company that produces shoes made out of leather from genetically modified stingrays (The Rise and Fall of Rayfish Footwear, 2012). It is worth noting that Van Mensvoort did not work by himself on these projects, but rather as the initiator and the person who was ultimately responsible for the end product.
Kellner's work is best described as a series of experiments in which she turns plants or flowers into objects under duress. Her work often takes the form of sculptures of plants being tortured and distorted. For example, a bouquet of flowers captured in a concrete cast of a vase (Your Everlasting Odour, series, 2012-2014), or a pot plant exhibited by clamping it against the wall with a picture frame (Big Island, 2013). While Big Island seems to speak to the audience of a plant's resilience to being framed, Your Everlasting Odour shows the contradiction in sentencing a bouquet of flowers to death by cutting their stems in order to be displayed. Kellner's work is motivated by the sense of wonder she experiences again and again as she learns new things about the idiosyncrasies of the plant kingdom and the many ways in which plants are more ingenious and complex than many people might assume.
What becomes apparent is that the work of both researchers is an excellent example of a hybrid practice that blurs the boundaries between art and science. In this respect, the early partnership between Kellner and Van Mensvoort shows that the professional matchmaking done by Mingler can indeed lead to interesting and surprising results. This is where Mingler wishes to stimulate collaboration between artists and scientists, and so to break down the boundaries between art and science. The Joint Forces project has already been able to demonstrate that a collaboration between art and science does not have to be one of contradicting or opposing views. In fact, there are currently professionals who in their work use aspects of both art and science, and that there is already an interested audience for these hybridised practices. The hypothetical collaboration between Kellner and Van Mensvoort is an example of symbiosis where both researchers do not just gain from the differences in their respective disciplines, but can also challenge each other as equals to push the boundaries of their own work further: joint forces.
1 Dr Van Mensvoort obtained a Master of Science in Computer Science and a Master of Fine Arts at the Sandberg Institute.