23 till 23 December 2011
Publication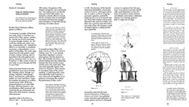 Our House in the Middle of the Street
Publication to celebrate 10 years Kunsthuis SYB
The house of Kunsthuis SYB in Beetsterzwaag has served as a residency for artists since 2000. The publication 'Our House in the Middle of the Street' looks back with its eye on the future.
In 'Our House in the Middle of the Street' the use of the house through the years is a symbol for and synonymous with the essence of the projects in SYB. Since its inception cooperation in all its possible forms has been the core value of SYB's programming. We therefore focus on projects that somehow made a connection with the house or the organization of SYB, with other artists or art institutions, or with SYB's physical environment: Beetsterzwaag.

THE HOUSE IN SPACE AND TIME
The book comprises two parts in alternating chapters.
Space: a walk through the house in six chapters*
Each chapter has a text that thematically relates to one of the rooms of SYB. The texts vary in style and subject matter beautifully, and are as diverse as the writers themselves, while the main theme (cooperation) is addressed from different angles. Each chapter also highlights three projects.
Time: a log of ten years of development and diversity.
Ten chapters with a selection from the archives of Kunsthuis SYB. A collection of all projects, events and developments in images, texts, clippings and quotes, which not only show the development of the organization, but also gives a glimpse behind the scenes. Through listing ten years of art projects, the publication provides comprehensive insight into the evolution and diversity of the genre.
Publication date: december 23, 2011
Circulation 500, 220 pages, English and Dutch
* Content of the chapters (Space)
Chapter 1: Entrance / Hospitality
Text: 'Letter on the occasion of ten years Kunsthuis SYB' by Danielle Van Zuijlen (a.o. freelance curator, founder Hotel Mariakapel, board member TransArtists and 1646)
Projects: Zucht (Linda Molenaar a.o., 2000), Image is Everything (Bureau Zeezicht, 2006), Bear Man and Alice (Abner Preis a.o., 2009
Chapter 2: Gallery / Playground Structures
Text: 'Free as in cheese: artistic confusion at the edge of openness' by Aymeric Mansoux (a.o. artist, musician, co-founder of, main teacher Media Design Piet Zwart Institute, MPhil/PhD-student Goldsmiths College London)
Projects: Wilde Metaphysica (Jantine Wijnja a.o., 2008), De Kolonie – The Colony (students and alumni from the Sandberg Institute, 2010), Mental Mickey and the Desert of Doom (Powerplant, 2007)
Chapter 3: Kitchen / Nesting
Text: 'Notes for "Kitchen Lecture: Notes on Gesture"' by Deirdre M. Donoghue (a.o. artist, writer, researcher, co-founder ADA)
Projects: Blind House (Maurice van Daalen and Giorgos Gripeos, 2005), Het huis met de arend (Ruth van Beek and Basje Boer, 2009), The Primitive Breakthrough (Emmeline de Mooij a.o., 2008)
Chapter 4: Dining room / Open House
Text: 'The Collaborative Turn' by Maria Lind (a.o. curator, critic, director Tensta Konsthall Stockholm, former director Center for Curatorial Studies at Bard College New York, Iaspis Stockholm and Kunstverein München, curator Moderna Museet Stockholm, received Walter Hopps Award for Curatorial Achievement in 2009)
Projects: ¿Volzet? (Sabine Mooibroek, 2001), Leentjebuur (Henry J. Alles, 2003), The Expanding Pie (Dutch Art Institute, 2007) 
Chapter 5: Living Room / Private/Public
Text: 'Terminus ante quem, terminus post quem' by Ana Nikitovic (a.o. curator Museum Contemporary Art Belgrado, member Prelom Kolektiv, participant Curatorial Programme De Appel season 2008/2009)
Projects: Last Christmas (Daan Samson, 2006), Big Fingers (Jérôme Sother and Christophe Boursault, 2008), Tristes Tropiques, Illustrations hors Texte (Laurence Aegerter and Ronald van Tienhoven, 2010)
Chapter 6: Bedroom / Social Politics
Text: 'Refusing to live in a nice world: minimal conditions for the collective' by Frans-Willem Korsten (a.o. professor literature and society Erasmus University, professor Literary Studies Rijksuniversiteit Leiden, former teacher Piet Zwart Institute, president committee Letteren Raad voor Cultuur)
Projects: Dyn Lân Bestiet Net (Ólafur Árni Ólafsson and Libia Pérez de Siles de Castro, 2005), Subgoed performancefestival (Serge Lammerts a.o., 2005), Waiting Room (Maja Bekan, 2008)