1 January 2018
news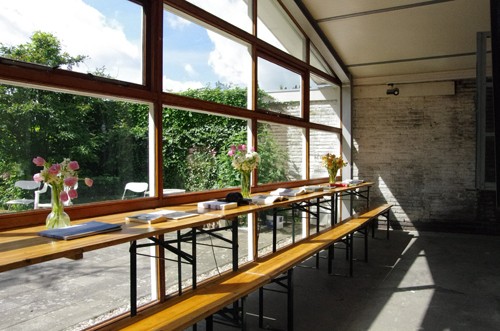 We started 2018 with a partly renewed Programming Committee. The old committee recently saw three seats vacated: Tom Kok, Timmy van Zoelen and Vincent van Velsen left SYB in December.
Starting 2018, current members Noor Nuyten, Erica van Loon and Agnes Winter will be joined by the new members Manus Groenen, Sara Bjarland and Niels Bekkema. We are very happy to have them and gladly introduce them to you here:
Manus Groenen (1986) was born in Venray (NL) and is currently based in Rotterdam. He studied Arts Education at the Fontys School of Fine and Performing Arts in Tilburg and Art History at Utrecht University. At the moment he works as propaedeutic coordinator and art theory teacher at the Fontys School of Fine and Performing Arts and as a lecturer of art history at Utrecht University. As a writer and critic he has worked for Museum De Pont in Tilburg, Impakt Festival in Utrecht, Metropolis M, Artslant and multiple artist publications. He is currently also involved with the development of innovative tools for art criticism in a project by the Domein voor Kunstkritiek. He was a guest speaker at De Brakke Grond Amsterdam, Mediamatic Amsterdam and VONCK, amongst others. As a freelance curator he started Alpha60projects.com, an online exhibition space with twelve collaborations of writers and artists and curated Proof of a Promise (2014) and I Carried a Watermelon (2014) for the artist initiative Locatie Z in The Hague and the prize winning exhibition Cryptographics at Art Chicago (2014).
Sara Bjarland (1981) is a Finnish artist living and working in Amsterdam. She graduated from The Slade School of Fine art in London in 2007, attended the HISK in Ghent, 2012-13, and was an artist-in-residence at Temple Bar Gallery + Studios in Dublin in 2016. Recent shows include Past Events at Hopstreet Gallery, Brussels, Vectors of Kinship curated by Srajana Kaikini at Shanghai Biennale, The Propehcy of Bees curated by Julia Geerlings at Kunstfort bij Vijfhuizen, Cryopreservation NEED FLOWERS TOMORROW? curated by Nathaniel Pitt, Syson Gallery, Nottingham, Formations curated by Alexandra Landré at Witteveen Gallery, Amsterdam and Fem studier i metamorfos at The Finnish Institute, Stockholm. In 2016 she was awarded a working grant by the Mondriaan Fund.
Niels Bekkema (1989) is a Dutch artist and writer currently located in Rotterdam. He graduated in 2016 from the Piet Zwart institute with an MA in fine arts. The past year he has been working on a film capturing the rotary motion of the Dwingeloo Radiotelescope. He writes articles for de Nieuwe, and recently his work has been exhibited in Rotterdam, Johannesburg and Mexico-City.