20 October 2017 till 31 January 2018
news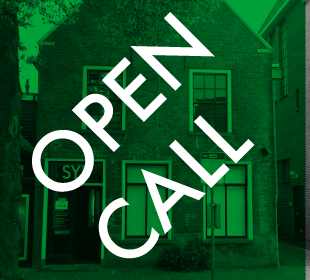 Open Call Kunsthuis SYB 2019-2020 for artists living and working in the Netherlands
Submitting a project proposal:
SYB encourages and provides research, experiment and new cooperation. Artists are invited on the basis of a project proposal to work and stay in the house for six weeks. Every weekend the doors are open for audience, who can follow the work process. The residency in concluded by a public presentation.
SYB is open to artists who want to do extensive artistic research for the development of their work and practice.  besides that we seek artists who want to do projects that include participation of the village and the region. (Also check out our website for more information on previous projects)
Artists can bring in a project proposal in which the research, the aim, the method and the desired cooperation are defined. This project proposal needs to be accompanied by current documentation, a curriculum vitae and a work description.
A residency includes 24-hour access to a furnished apartment and studio space, organizational guidance, artistic feedback by SYB's programming committee and writers programme, publicity, and a presentation at SYB.
Kunsthuis SYB is supported by the Mondriaan Fund and in addition we apply on project basis at various public and private funds to enable the residencies and projects.
Applications should include*:
a project plan in which the research, the aim, the method and the desired cooperation are defined (max. 500 words)
an artist statement (max. 300 words)
motivation letter: the reason for your interest in a residency stay in SYB and how you want to develop your practice during the residency (max. 300 words)
documentation (max 7 images/ video's: please send online vimeo or youtube link)
a CV, including the following information: full name, date and place of birth, citizenship, postal address, phone number, e-mail address, website address
please indicate when  you are available for a residency in SYB in 2019/20.
All applications materials should be sent together in one PDF directly to SYB and by email only to project@kunsthuissyb.nl no later than the 31st of January 2018.
*Project proposals that are not complete will not be taken into consideration