14 December 2019
Petra Ponte - Nola & Boni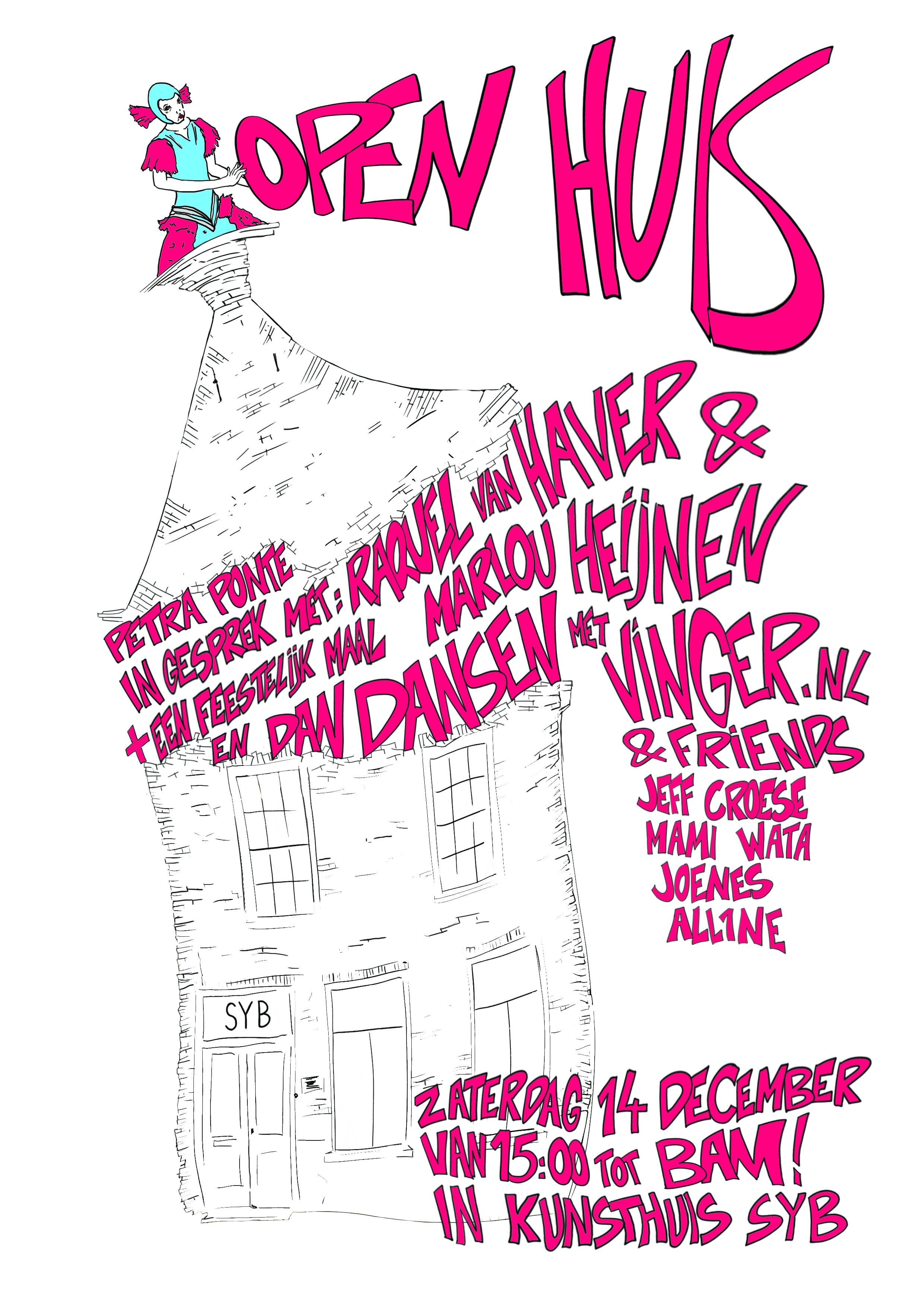 Date: Saturday 14 December
Conversation (in Dutch) from 3pm – 5pm
dancing till bam
Nola Hatterman's house on Falckstraat in Amsterdam was a regular meeting place. In those moments there was discussion, poetry, music, and food and drinks. Emulating this open atmosphere, Petra invites guests to her temporary home, Kunsthuis SYB, to further develop her research of Nola & Boni.
On Saturday afternoon Petra converses with visual artist Raquel van Haver and assistant researcher Marlou Heijnen. After the conversation there will be a festive meal as a solid basis to keep dancing until you drop with ALL1NE, Jeff Croese, Joenes & MAMI WATA. As Eddy Bruma, author of the play De Geboorte van Boni (The birth of Boni), said to D.A. Tamminga, editor of De Tsjerne, after the performance in Leeuwarden: We got to dance. We are not going home before sunrise.
Raquel van Haver makes loud paintings. On burlap, she creates stories which are layered both literally and figuratively. A year ago, Van Haver exhibited in six rooms of the Stedelijk Museum Amsterdam Spirits of the Soil (November 2018 – April 2019) and, until recently, her work hung alongside that of Nola Hatterman in the Stedelijk Museum Schiedam in the exhibition Meesterlijke Vrouwen (June – September 2019), because the curator of that exhibition saw a connection "in their predilection for portraying people from their immediate surroundings".
Marlou Heijnen studies Cultural Anthropology and Developmental Sociology at Leiden University. As part of the project The legacy of Nola Hatterman, Heijnen portrayed Nola Hatterman's international network under the supervision of independent researcher and initiator of the project Dr. Ellen de Vries and Professor of History of Suriname at the University of Amsterdam Prof. Dr. Rosemarijn Hoefte.
Vinger.nl is a creative studio from the Bijlmermeer in Amsterdam. Vinger.nl regularly performs with friends to build, dance, DJ's, photography, cooking, MC's, research, design, painting, drawing, radio and video making in festivals, radio shows and exhibitions to name but a few.
Illustration: modeled after Nola Hatterman's New Year's card with her house on Falckstraat (1952/1953) in combination with the design Vrijheid & Ruimte (Freedom & Space) for an independent fashion show (1975).
This project was made possible with the financial support of the Mondriaan Fund and the Bankgiroloterij Fund.