The aim of Kunsthuis SYB directly stems from the life ambitions of Sybren Hellinga (1926-2000). From 1995 to 2000, Syb Hellinga ran an 'ideal gallery' in Beetsterzwaag. He invited talented, promising artists for exhibitions. He often selected artists who did not shy away from experiments and renewal. His goals stemmed from a strong belief in a new, dignified world. Hellinga had faith in the contemporary artist who, in his opinion, was able to create this world.
'The entry into the gallery indicates the old, dark part, the darkness in human life. Then you enter the new section. You enter through old windows that have broken out. The new space is surrounded by a large glass facade through which everything wades into a sea of ​​light: a view of the arrival of a more liveable world for everyone. ' (Syb Hellinga)
When Syb got sick, he established the Syb Foundation with a small team, and set up its organization. After his death in 2000, he left the building and his ideology to Stichting Syb with the explicit wish that Kunsthuis SYB would continue as a stage for young artists. Emmie Muller, Anja Swint and his cousin Chris Hellinga have been decisive during this transition period and for the further success of Kunsthuis SYB.
The building is a national monument.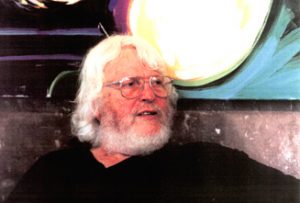 The House with the Eagle
The anchor in the façade carries the date 1754, but the building is much older. At the beginning of the 18th century, Johannes Lammerts was the first owner. In 1734, he sold the house to linen weavers Johannes Hoytes and Martsen Johannes for 158 gold guilders and 7 stivers. In 1753 the building was sold to carpenter Sake Annes. He renovated the house, lowering it with one floor, recording the year of the renovation by installing the façade anchor. It is likely that the eagle (which is still part of the house now) was placed on the chimney. New residents, together with executors, laborers, fellow lawyers or veterinarians, came and went. Some for short periods of time, others, such as the Gosses family, lived there for generations.
Schroor's Butter balls
In 1890 the house with the eagle is sold for 2100 guilders to barge and shopkeeper Bouwe Durks Schroor (1864-1929). He established a shop selling, among other things, the famous Van Ouds Beroemde Schroor's FriescheBoterballetjes (Frisian candy, manufactured after the secret recipe of father Schroor). Bouwe's son, Theodoor Schroor, continued to make the famous butter balls until he was 88 years old (in 1986). Until the last days of the factory, the recipe remained a secret: prohibited for unauthorized persons.
Gallery Hellinga
After the death of the Schroor couple, the municipality of Beetsterzwaag buys the plot for a housing development. Syb Hellinga becomes the new owner of the candy store. After a thorough renovation and restoration, he opens his long cherished dream on liberation day 1995: gallery Hellinga.