9 October till 8 November 2009
Mariusz Tarkawian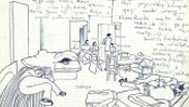 The Polish artist Mariusz Tarkawian always carries pen and paper. He notes down life around him in an endless stream of intricate little sketches called Peeped Drawings.  During conversations with friends and appointments with gallery owners he sketches away relentlessly, also recording fragments of dialogues. His report in drawing, reads as a succession of awkward moments. Tarkawian's sketching can be compared to courtroom drawings.
With the series Looking for Art he copied hundreds of artworks, putting young Polish artist's from his own circle next to established contemporary artworks, like Damien Hirst's shark. From this, Anticipation of Art emerged, a series where he portrays future artworks with titles like Probably Marina Abramowicz 'Untitled 2011'. His handwriting democratizes everything and reveals the point of reference amongst the hundreds of drawings: Tarkawian, himself.
Tarkawian will continue his abundant image production in SYB. The results of his five week manic drawing 'in residence' can be viewed on Saturday the 7th of November during the celebratory final presentation.
Mariusz Tarkawian (Poland, 1983) studied art at the University of Lublin. For a few years now he has been represented by Program Art Gallery in Warsaw, amongst other places, at the Solo Project Art Fair in Basel (2008) and the Vienna Art Fair (2007).
Working period:
October 8 to November 9
Opening times:
Saturday & Sunday 13:00-17:00
and by appointment
Celebratory final presentation:
Saturday November 7 at 16:00
SYB maintains an open process by opening its doors to the public every weekend during each residency.
This project was made possible by the Mondriaan foundation.