15 till 23 May 2010
Nina Wijnmaalen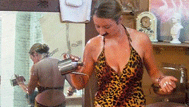 "The unknown artist, his bad taste and the way he moves his famous body"
Kunsthuis SYB invited Nina Wijnmaalen as a representative at De Kunstvlaai. The eighth Kunstvlaai will take place in and around the Westergasfabriek in Amsterdam, where 70 art stages, a great amount of master's programmes and about 400 artists will present themselves.
Last year, Nina Wijnmaalen stayed at Kunsthuis SYB for six weeks. During her project The drunken artist, his strange appetite and an imaginary collection of untamed rabbits, she organized nightly photo sessions with friends. In these photo sessions she tried to catch the glow of ultimate solidarity, without words, without judgment. The sessions were accompanied by oysters, champagne, chocolate, make-up, fancy dress parties and strange attributes.
She also created video works based on a number of characters. With these videos she concentrates on the obnoxious fellow man: of these persons she makes 'types' with an ambiguous character, knowing she actually creates self-portraits with this.
During De Kunstvlaai, Wijnmaalen continues her project with an altered title and without the intimacy and isolation of Kunsthuis SYB. She wrote a script for a daily performance in her room at the Kunstvlaai with roles that are in line with characters she used before. It is a well-defined script, but she will not practise beforehand. "I will spend nine days, half days, of my life with this title", according to Wijnmaalen.
In the room is a couch and a sewing machine. There are oriental tapestries on the floor, there is a small table in front of the couch and there is a little dresser with attributes. A little painting and a mackerel are hanging on the wall. Next to the couch is a little orchid and on the floor are about 10 televisions with videos showing Wijnmaalen in divers roles.
Nina Wijnmaalen (Groningen, 1980) followed several theatre and performance studies and graduated from Academie Minerva in Groningen in 2007. Since then, she took part in a number of group projects, such as the VPRO membership recruitment campaign, a sideline exhibition of the World Press Photo, the CLASH Jonge Harten Festival and the CBK Uitleenschatten.
Opening: Saturday 15 May from 4 pm to 7 pm
Opening hours 16 until 23 May: daily from 12 to 6 pm