19 October till 3 November 2019
Exhibition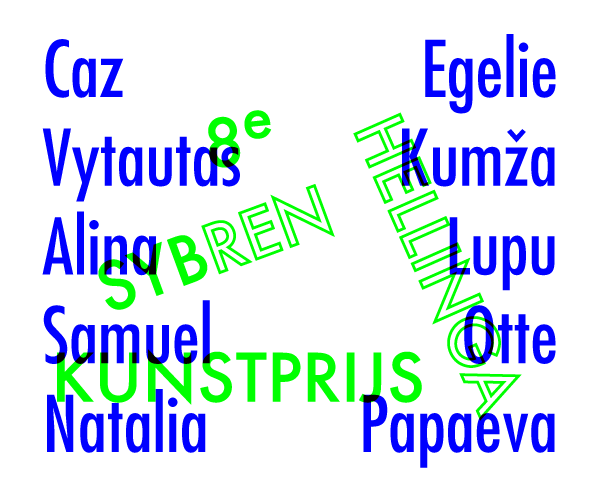 Kunsthuis SYB is proud to announce a group exhibition at SYB, which will open on October 19. The exhibition features works Caz Egelie, Vytautas Kumža, Alina Lupu, Samuel Otte and Natalia Papaeva. 
These five artists have been nominated for the Sybren Hellinga Kunstprijs, which is awarded every three years in SYB to a young artist. The exhibition will be on view during three weekends, and will be concluded with the award ceremony on Sunday 3 November.

Caz Egelie – foto: Chaïm Dijkstra
Vytautas Kumza
Alina Lupu
Samuel Otte
Natalia Papaeva – foto: Victoria Chaushyan
Group exhibition Sybren Hellinga Kunstprijs 2019
19 October – 3 November in Kunsthuis SYB (Sat/ Sun from 1:00 pm to 5:00 pm)
Opening: October 19, 1 p.m.
Award ceremony: November 3 at 3 p.m.
Caz Egelie (1994) obtained his Bachelor of Fine Art and Design at the HKU, Utrecht in 2018. His work consists of sculptures, performances and 3D animations, and has been shown at Moira (Utrecht), Arti et Armicitiae (Amsterdam), the Vishal (Haarlem), and Palais de Tokyo (Paris), among others. During the Summer, he performed at Welcome to the Village in Leeuwarden with VHDG. At SYB he will also be presenting live performances, as well as a four-part video work I fell in love with a prop.
Vytautas Kumža (1992) is a Lithuanian-born, Amsterdam-based photographer who graduated from Gerrit Rietveld Academie in Amsterdam in 2017. He also studied at the Royal Academy of Arts in The Hague. Over the past years his works were shown at Fondazione Fotografia Modena, the National Gallery in Prague, Showroom MAMA, Rotterdam. At SYB, he will be showing the sculptures We won't fade into and Half empty half full.
Alina Lupu (1985) is a post-conceptual artist and writer. In 2016, she graduated from the Gerrit Rietveld Academie. As of December 2018, she´s had the fortune of getting funded by the local Dutch authorities through the Mondriaan Fund. Before that, she was alternately employed and contracted by Deliveroo, Helpling, Foodora, Uber, Hanze Groningen, Willem de Kooning Rotterdam, de Taart van m´n Tante, and Poké Perfect Amsterdam. Her pension will eventually total a bit over 2 Euros per month. At SYB, she will examine the local working conditions, translated into a number of performances (every weekend), and an installation.
Samuel Otte (1980) graduated from the Royal Academy of Art in The Hague in 2016, with an installation and a book, called De Val (The Fall); a simultaneous farewell to his deceased father and his conservative Christian background. The work was on display in the Rotterdam Photo Museum as one of the nominees for the Steenbergen Stipendium. In SYB, he shows his work These are the agreements 2 – the first part of which was shown in Prospects & Concepts at Art Rotterdam 2019.
Natalia Papaeva (1989) was born in Orlik, a small village in Buryatia, Siberia. She moved to the Netherlands to study at the Royal Academy of The Hague. She graduated in 2018 with the video work Yokhor, winning both the department prize at the Royal Academy and the TENT Academy Award. She will be showing this work at SYB as well, alongside a her newest video, titled How are you? which deals with change, coming home and mourning.
About the price
The Sybren Hellinga Art Prize consists of a cash prize of 3000 Euros. The prize is awarded every three years, this year for the 8th time, and is named after gallery owner Sybren Hellinga (1926-2000). Hellinga ran his gallery on Hoofdstraat 70 in Beetsterzwaag, the current Kunsthuis SYB. After his death, Hellinga left the building and some assets to the Sybren Hellinga Foundation, to make sure that his gallery would continue to be a sanctuary where young art talent could develop.
The jury of the Sybren Hellinga Art Prize 2019 consists of Peter van der Es (initiator Unfair, Amsterdam), Nathalie Hartjes (director MAMA, Rotterdam), Milena Naef (winner of the 7th Sybren Hellinga Art Prize) and Louwrien Wijers (visual artist). They will announce the winner on Sunday 3 November.
The Sybren Hellinga Art Prize is supported by the Sybren Hellinga Foundation, the Mondriaan Fund, the Van Teyens Fundatie and the municipality of Opsterland, and media partner BK information.