1 August till 18 September 2012
Residency Sjoerd van Leeuwen, Harald den Breejen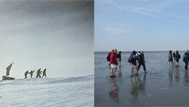 During an expedition that had the goal to be the first to reach the Antarctic, on 17 January 1912, the Briton Robert Falcon Scott and his men reached the most southern point, only to discover that the Norwegian Roald Amundsen had gotten ahead of them. Disappointed and severely weakened, Scott and his men began their fatal journey back. None of them would reach base camp. Still, in his homeland Scott became to be regarded as the paragon of British courage and endurance. A romantic image, that had to make room in the second halve of the 20th century, for a tarnished picture of Scott as a daredevil who chased his men in to certain death. The reputation of Robert Falcon appears to change as our worldview changes. Because of this, his expedition will indefinitely remain fascinating.
A hundred years after the death of Scott and his men, an expedition takes place once again. This time, the base camp is Kunsthuis SYB and the goal is the geographical centre of the Wadden Sea. The artists Sjoerd van Leeuwen and Harald den Breejen will collect their equipment, get into shape and assemble a team of experts to defy the elements on their own, in the footsteps of Scott. It is a tribute to the wildest and unspoiled bit of nature the Netherland has. 'Terra Nova' is, firstly, an attempt to revive the spirit of exploration and the desire for conquest. Secondly, the preparations for the journey are an investigation into the expedition of Robert Falcon Scott and the significance of such explorations for our contemporary society.
Sjoerd van Leeuwen (Zaandam, 1985) received his Master's at the Piet Zwart Insitute and Harald den Breejen (Dordrecht, 1983) did the residency programme at the Rijksakademie van Beeldende Kunsten. The two artists met during their Bachelor's at the Amsterdam School of the Arts; 'Terra Nova' is the continuation of a long active cooperation. Landscape plays an important role in the work of both artists. In his collages and installations, for example, Den Breejen disconnects geometric principles that underlie our perception, from the landscape, to subsequently reintroduce them in a playful way. The installations of Sjoerd van Leeuwen deal with the eternal interplay between documentation and the inevitable change in the landscape.
'Terra Nova' is part of the satellite programme of the Noorderlicht International Photofestival 2012, called 'Terra Cognita'. Therefore, every day from Sunday 2 September until 9 September it is possible to view the documentation of the expedition in Kunsthuis SYB.
Opening hours work period:
Saturday and Sunday from 1 pm until 5 pm.
Extra opening hours during Noorderlicht Photofestival:
daily from 11:00 till 17:00, from 2 till 9 Sept.
Festive presentation and 'artist talk':
Saturday 8 September, 4 pm
Program Terra Nova
Saturday, August 4
14:00 hours: film screening 'Scott of the Antarctic' (Charles Frend, 1948)
16:00 hours: screening documentary about Sir Robert Scott
Saturday, August 11:
14:00 hours: film screening 'Fitzcarraldo' (Werner Herzog, 1982)
16:00 hours: film screening 'Burden of Dreams' (Les Blank, 1982)
Friday, August 24:
Farewell for members of the expedition from base camp SYB
17:30 hours: barbecue (if you wish to attend, please contact: info@sjoerdvanleeuwen.nl)
19:30: film screening 'The Great White Silence' (Herbert Ponting, 1924)
21:00: Guest Speaker (surprise)
Saturday, September 8:
16:00: festive opening of TERRA NOVA and artist talk with Frysk Hinder whiskey