28 October till 9 December 2011
Residency Joaquín Cociña, Cristóbal León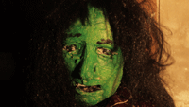 El Arca, El Templo and Padre. Madre. (2010) are films made by the Chilean duo Joaquín Cociña and Cristóbal León which combine the naivety and playfulness of papier-mâché, manufactured costumes and stop-motion with the reality of the human body with its low malleability. Heavy themes such as the ritual, sex and death effortlessly shade off into innocence, intimacy or banality. The videos pull the viewer along into a current of strong associative images, successive scenes from a mythic narrative that never really takes on its definitive shape.
Contrary to previous stop-motion animations, the last three films by Cociña and León were made in the short time span of one year. During the production both artists decided to let go of their narrative and aesthetic concepts, working with an open storyboard and a performer on the shooting day itself. On set the videos unfolded in improvisation and dialogue. They are considerably rawer, more intuitive and disquieting than previous work such as the fairy-tale like Lucia and Luis (2007-2008).
Cociña and León wish to explore the possibilities of this new method in SYB and asked choreographer Leonie Kuipers (NL) to assemble a group of dancers and performers together, who, as members of The Apocalypse Community are to feverishly prepare for the Last Day. In Beetsterzwaag they are working on the ultimate theatre piece; a piece in which all suffering and all hope are to find a shape. Footage with which the event can be followed on set will be projected on the windows of the art house during the residency. Thus, the artists intend to make the residents of Beetsterzwaag curious and entice them to join the Apocalypse community as performers.
Joaquín Cociña (1980, CL) and Cristóbal León (1980, CL) live and work in Amsterdam and have been working together since 2007. Independent of each other, they make drawings, animations, installations as well as backdrops and they also write texts. In their joint projects they combine all of this into one entity. Lucía and Luis (2007 – 2008, in collaboration with Niles Atallah), for example, became a grim story in a stop-motion animation in which the interior was literally used as carrier for the cartoon. El Arca, El Templo and Padre. Madre. were on view this year in the installation The Third World in the Upstream Gallery in Amsterdam.
Cristóbal León is an artist and a filmmaker. He finished his bachelor's degree in design at the Universidad Católica de Chile, obtained a grant from the DAAD in 2007and left for Berlin for a one year programme at the UDK. This year, Cristóbal León will finish a residence at De Ateliers in Amsterdam.
Joaquín Cociña is an artist and filmmaker. He obtained his bachelor's degree in free art at the Universidad Católica de Chile, participated in various exhibitions in Chili and beyond and also worked as a writer, illustrator and a backdrop designer for the theatre. Joaquín Cociña recently presented a solo exhibition at the AFA Gallery in Santiago in Chile.
Working period:
October 28th up to, and including December 9th 2011
Opening hours until december 11th:
every Saturday and Sunday from 1pm until 5pm
Celebratory presentation and 'artist talk':
Saturday December 3rd at 3 pm
Window presentation:
December 12th  2011 up to and including January 3rd 2012