23 February till 5 April 2011
Residency Walter van Broekhuizen, Arjen de Leeuw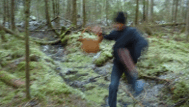 In the project 'Une condition naturelle', Arjen de Leeuw and Walter van Broekhuizen come into the possession of the wilderness. In their work, both artists are enthralled by the role of nature in the everyday city life. The city, that with its bricked houses and citizenship has overgrown nature since the nineteenth century, is central as an ambiguous place in which the position of the human being is everything but clear. In SYB, Van Broekhuizen en De Leeuw together examine the relation between nature and the 'civilized' human being for the first time, with which the artists and their contemporary urban world serve as starting points.
The earlier, individual work of both artists has been on the same level for a long time now. Walter van Broekhuizen's site specific wooden installation 'House in the Woods' (2009), for instance, offers the beholder the opportunity to freely behold a woody environment, and to have himself behold in his turn. In this way, the grip of nature on the human being that has apparently decreased as a result of the urge to urbanization is emphasized. Arjen de Leeuw also reflects in his videos and installations the natural environment, the human ambition to overpower this and the, at times, reverse effect of this. In this way, televisions and chairs disappear under a thick layer of clay and packaging and tape unfold to a canoe.
During their residency, De Leeuw and Van Broekhuizen centralize the question whether their longing to 'Nature' is still realistic or just falls into nostalgic dream visions, as we can find in the romantic work of painters such as Caspar David Friedrich. The dialogue that has connected the artists since longer, will be of a more practical character. Old and new work will be brought together as a gesamtkunstwerk in order to trace new stories. The environment of Kunsthuis SYB will announce oneself as a third leading figure.
Walter van Broekhuizen (Rotterdam, 1968) studied at the St. Joost Academy in Breda and at the Rijksacademy of Visual Arts in Amsterdam. His work could be seen in numerous exhibitions in the Netherlands, Germany, Sweden, Canada, South-Africa and Indonesia. He also made work by order of the public space. Earlier, he was artist-in-residence in Prague, the Czech Republic; Toronto, Canada; and Bergen, Norway. Walter van Broekhuizen lives and works in Amsterdam.
Arjen de Leeuw (Amsterdam, 1972) studied at the Royal Academy of Visual Arts in The Hague. He took part of exhibitions and festivals in, amongst others, Sweden, Slovenia, Italy, Spain and the Netherlands, and worked for different theatre productions. Arjen de Leeuw lives and works in Amsterdam.
Project period: 23 February t/m 5 April
Openings hours: every Saturday and Sunday from 1 to 5 pm
Final presentation: Sunday 27 March at 3 pm