15 June 2017
by Yasmijn Jarram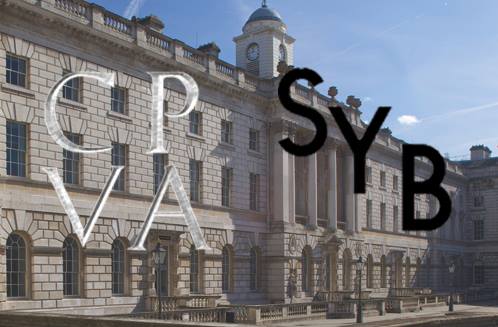 International cross-fertilisation between philosophy, theory and the visual arts: the new Centre for Philosophy and the Visual Arts in London brings together artists and philosophers.
When it comes to art education, London has an excellent reputation. Goldsmiths, Slade School of Art, the Royal College, the Royal Academy, Wimbledon, Chelsea, Central Saint Martins: each renowned institutes that attract students from around the world. This city furthermore represents various top-class universities, the oldest of which is King's College. There, an initiative has recently been set up that connects the artistic and academic worlds with each other: The Centre for Philosophy and the Visual Arts (CPVA), founded by Harald den Breejen, artist and research student, and Sacha Golob, university lecturer at King's College. The CPVA is a multidisciplinary research centre which brings together academics, artists, curators and gallerists to explore connections between philosophy, theory and the visual arts. In what ways can philosophy and contemporary art reinforce each other? What are the conceptual possibilities and limitations of the image, and what influence have certain philosophers had on contemporary art making and theory?
The CPVA strives to combine research methods from different areas of expertise and subsequently share them with a larger audience. To this end, (online) publications are made, public round table discussions are organised and exhibitions are set up. There is also an artist-in-residence programme to stimulate and facilitate long-term collaboration. The particulars of these work periods are determined in accordance with the King's College curriculum. In an annual open call, two specific modules are put in the spotlight, which artists living in Europe can respond to with a research proposal. In addition to following the selected lecture series, the artist spends time with the corresponding tutor, and receives support from the CPVA for the duration of the residency. In this way, artists and philosophers can jointly study prominent metaphysical and existential themes. According to the founders, this exchange between two often separate domains meets a great demand.
A special addition to this programme is the new collaboration with Kunsthuis SYB, an artist residency and presentation institution in the idyllic Frisian village of Beetsterzwaag, where Harald den Breejen was a resident himself in 2012. In collaboration with (among others) Noor Nuyten, an artist who is active in SYB's programming committee, a special two-stage programme has been realised, taking place in 2017 for the first time. After a residency at the CPVA, where the emphasis lies on reflection and research, artists are invited to stay at SYB, where over a six-week period they can produce and show new work to visitors. As is customary at SYB, they are also paired with an artist or curator from the programming committee for artistic feedback, and to a writer or art historian who then writes about the project. This creates space for developing theoretical research, as well as a second layer of dialogue and interaction.
No wonder there was no lack of interest in this dual residency: the first open call recently resulted in almost a hundred applications. One of the lucky few selected is the Irish artist Siobhán Tattan, who gained her PhD in Fine Art at Middlesex University and was a resident at De Ateliers in Amsterdam from 2008 until 2010. Tattan is interested in pursuing fleeting moments and encounters that are far removed from concrete everyday life. She creates ephemeral installations that are effectively performances, yet often without the physical presence of a performer. By way of this absence, using the staging of props, light, sound and projections, Tattan researches how she can sustain a fictitious character with all their emotions and subtleties. Using historical and literary sources, she intertwines historical witness reports with personal fragments, blurring the boundary between myth and reality.
Tattan applied for a residency at the CPVA to follow the lecture series The Search for Meaning by Christopher Hamilton, a lecturer at King's College who focuses on philosophy as well as on literature and language. Tattan was keen to learn more about his methodology in questioning the human condition. According to her, the characters in Hamilton's books seem to be continually consumed in self-analytical stories, in which they question what their position is in the cultural, political or social climate of that moment. It fascinates her how Hamilton combines literary references with an analytical severity, and thus arriving at an interpretation and reflection on human life. Tattan sees many similarities here with her own practice. Her nameless characters also bridge the intimate complexities of human relationships, carving a way through the accompanying feelings of distance and detachment with regards to everyday life.
The second resident is the British artist Hester Reeve, who studied at Northumbria University and Lancaster University and now teaches at Sheffield Hallam University. Her work comprises diverse disciplines: from live art, drawings and sculpture to writing, performance and art pedagogy. The relationship between art and philosophy is one of her primary research interests. As an artist, Reeve explores her relationship to the world through a 'persona' by the name of HRH.the. She is particularly interested in the task of thinking and thinking's relationship to the body and matter at large. Reeve does not so much view art as a tool of communication, but more as a complex 'kingdom' that is continually attempting to establish itself through human thought and action. She is curious about how this conceptual way of thinking potentially leads to new ideas about art making, composition and materials.
Reeve wrote a research proposal to attend John Callanan's lectures on Kant's Groundwork of the Metaphysics of Morals. In this standard work, Kant raises questions about morality: is it possible to determine when an action is morally justified? And is morality not just a human invention? In his lecture series, Callanan analyses Kant's theories on the nature of moral value, a theme that corresponds with Reeve's own practice. Where she views art as a 'philosophical agency', a kind of representation of philosophy, her work regularly touches upon the status of the artist as a moral 'agent'. She continually hovers between the mental and material forms of making – a fascinating balance that ultimately seems to apply to the entire route from London to Beetsterzwaag. In the weekend of 21-22 of October, Reeve and Tattan will present the results of their research periods in Kunsthuis SYB.
thanks to: