4 August till 6 September 2010
Takako Hamano, Erica van Loon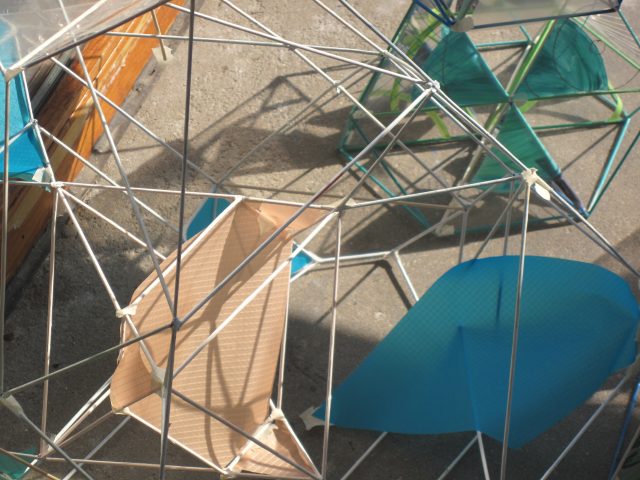 Usually, Erica van Loon works in her studio on artificial landscapes in set-like constructions. She alternates building, painting and photographing, using wooden constructions and transparent plastic, whether painted or not. The alienating new landscape that comes into existence in this way is often shown by Van Loon as pictures in light boxes.
Recently, Van Loon started building constructions in the real landscape in the open air. She works on floating sculptures and objects that she wants to bring together with the landscape. Van Loon explores how this flying sculptural shape can work 'as a sign in the sky, as a viewfinder that moves over the landscape'.
In SYB, Van Loon wants to develop some floating sculptures and bring them together with the landscape on different locations. During this 'fieldwork', as in her studio work, she will search for the confrontation between the constructed and the natural. She takes Alexander Graham Bell's researches on flying constructions around 1900 as a point of reference in her own adventure.
Van Loon invited visual artist Takako Hamano (Tokyo, Japan, 1975) to work in SYB during the last two weeks of the project period. In SYB, she will reflect on her recent stay in the Japanese landscape through her work, while Van Loon reflects on the Frisian landscape.
As a second special guest the artist invited Erik de Jong, for a conversation during her working period. De Jong is extraordinary professor of Culture, Landscape and Nature at the Faculty of Humanities in the University of Amsterdam. Here, he is engaged in the connection between culture, art, nature and landscape, at the so-called 'Artis chair', that is established on recommendation of Natura Artis Magistra and the BKVB Foundation.
Erica van Loon (Meppel, 1978) graduated in 2005 from the Gerrit Rietveld Academie and then stayed at De Ateliers in Amsterdam where she graduated with her characteristic, layered landscape constructions. Her work has been shown among others in P/////AKT, Amsterdam and at the exhibition Deep Screen (2008) in the Stedelijk Museum Amsterdam.
Project period from 4 August until 6 September 2010
Open every Saturday and Sunday from 13.00 to 17.00
Presentation Friday 3, Saturday 4 and Sunday 5 September from 13.00 to 17.00
Festive meeting Sunday 5 September at 16.00
SYB makes the process public by opening the doors for the audience during the work period.