26 June till 30 July 2023
Residency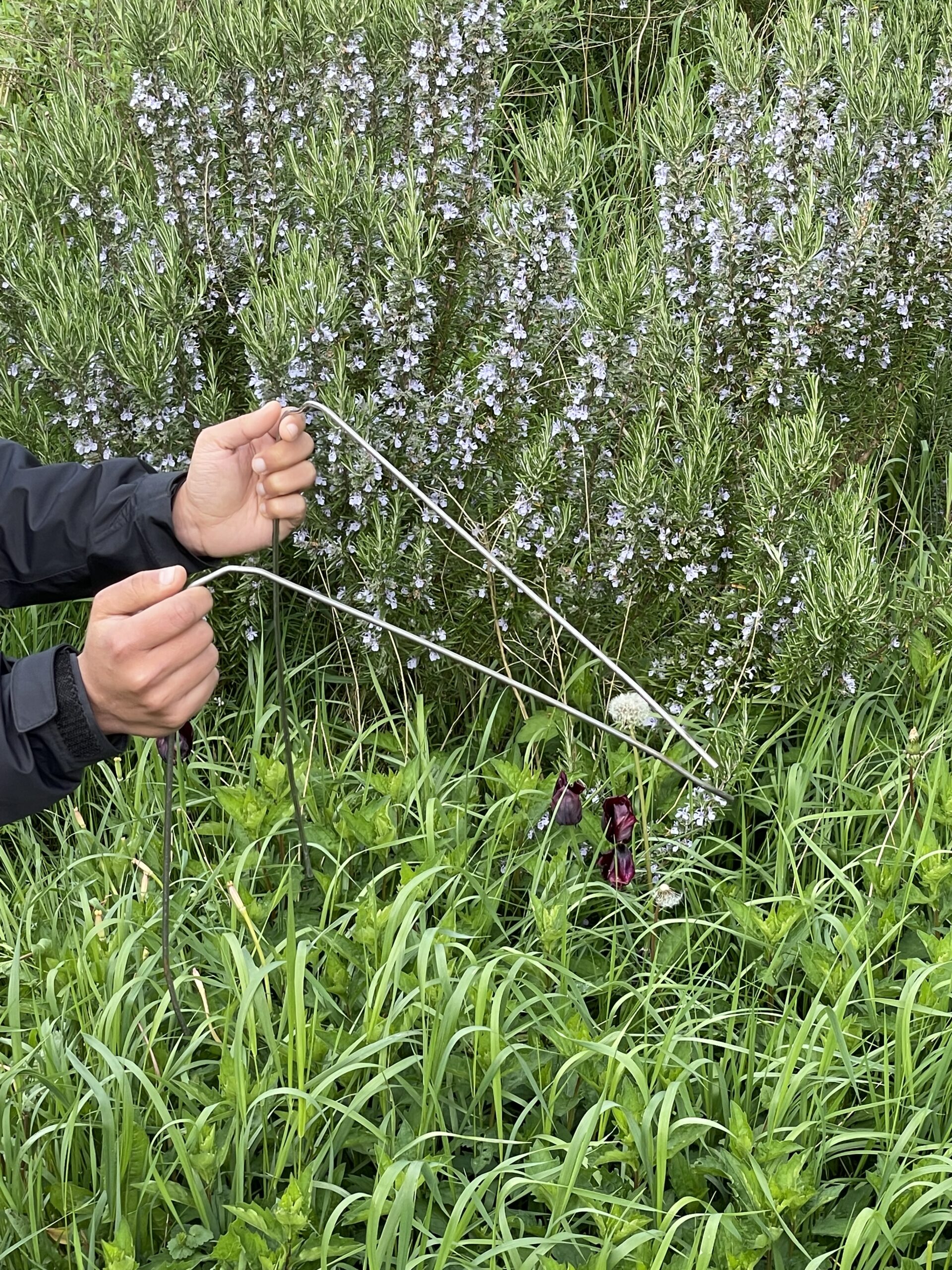 Kunsthuis Syb is very happy to welcome back artist Olivia D'Cruz for a residency in July 2023. Her research is titled 'Water Witching: a Research on Landscape and Fiction' and during her residency she aims to work towards notes for a new film.
Dowsing, also known as water witching, divining, doodlebugging, or ''wichelroede'' in Dutch, is a practice involving the use of a forked twig or a pair of L-shaped copper rods to locate underground water sources, mineral deposits, or misplaced objects. It traces back to 16th- century mining operations in Germany, where it was used to locate metal ores. During dowsing, practitioners would walk across the land, holding the dowsing instrument with both hands. The instrument would bend or move towards the ground when in proximity to the sought-after source. Beyond its practical application, dowsing requires close attention to the land and relies on elements of fiction and storytelling.
During her residency at Kunsthuis SYB, Olivia draws inspiration from the practice of water witching to explore human relationships with landscape. She reflects on the historical use of water witching in systems of resource extraction. Moreover, through conversations with local inhabitants, she inquires about their recollections of using water witching or similar practices to locate wells, springs, minerals or even lost objects.
As she describes in her own words:
'I will focus on movement through the landscape in relation to water. I will be looking further into how practices like water witching create meaning and fictions while requiring close attention to the landscape. I hope to accompany a local ecologist and other inhabitants on their regular routes through the forests around Beetsterzwaag. By observing and engaging with their practices, I hope to learn about their relationship with the forest and the water bodies in the area. I will reflect on the history of these forests and water bodies as sites of extraction, i.e. the peat and timber industry. During regular walks, I hope to get acquainted with the area's non-human inhabitants. I will embrace unfamiliar ways of being guided through the forest and floodplain whether by inventing my own dowsing instrument, or carefully tracking snails, for example. I will document the walks, encounters and conversations through video and sound recordings and will eventually put them together as a film.'
During Olivia's residency, Kunsthuis SYB is open on Saturdays and Sundays from 13:00 – 17:00 hrs.
About the artist
Olivia D'Cruz (1996) is a Groningen based artist and filmmaker from Goa, India. She graduated in illustration and animation at Academy Minerva in 2020. Inspired by ecofeminism and the environmental humanities, her work focuses on gathering stories from the more-than-human world. She is interested in the structures that make encounters between landscapes, humans and other animals possible or impossible. In 2020 she was awarded the Academy Minerva Research Prize for her graduation film. In 2022 D'Cruz exhibited her long-term project about resource extraction at Noorderlicht in Groningen and was nominated for the Sybren Hellinga Art Prize, which is organized every three years by Kunsthuis SYB.
She regularly develops art workshops for children and places great importance on collaboration and intergenerational relationships within her artistic practice.
The residency is made possible by: