Recensie door Maritt Serena Kuipers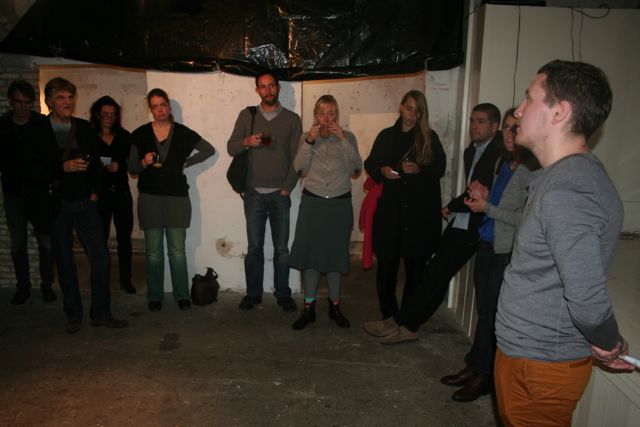 Symposium Artistic Research in Daily Life
translation: Jenny Wilson
To have one´s cake and eat it too is most often used negatively, to connote the idea of consuming a thing whilst managing to preserve it. This may also indicate having or wanting more than one can handle or deserve, or trying to have two incompatible things. The proverb's meaning is similar to the phrases, "you can't have it both ways" and "you can't have the best of both worlds." Conversely, in the positive sense, it would refer to "having it both ways" or "having the best of both worlds."
What is artistic research? Why are there so many different forms and what are the rules? A discussion, which by now is as old and travelled as the road to Rome; however, what has barely been looked at is what the alumni of the Master Artistic Research postgraduate study have been contemplating during their residency at Kunsthuis SYB: What is the impact of this study on their artistic practice, and how do they evaluate the curriculum of their (still fledgling) master's degree? The alumni have grabbed their residency at SYB as an opportunity to take a moment's rest after an intensive two-year period. This sheltered house became a place for reflection. Things they didn't have enough time for during their study were afforded space at SYB. What did this bring about? All these questions and more would be addressed during the concluding symposium: Artistic Research in Daily Life.
The symposium had a notable start. After a short introduction by the moderator, Heiðar Kári Rannversson, the course heads (Jeroen Boomgaard from the Master Artistic Research at the UvA and Lucy Cotter from the Master Artistic Research at KABK) were merely asked to give a quick introduction concerning the respective courses. The striking difference between their approach regarding the scientific aspect and the practical side seemed to be the go ahead for a trilogy of very diverse presentations given by different artists, all of whom were to clarify something about artistic research and artistic practice.
Whereas the rigid system of the University of Amsterdam would often leave students to their own devices when it comes to finding the correct theoretical research relating to their personal fascinations and to link this to their practice in one way or another, and to be more or less satisfied with an increased confidence concerning individual research and practice, the master's course at KABK, on the contrary, sets out from the student's practice. Where one comes across as rather forced, the other endeavours to follow a natural path; from artistic research to artists' research and vice versa. There is something to be said for both, and both wish to combine the best of both worlds. But confronted with our own thoughts about Artistic Research in Sara Campos' black cube, part of her presentation 'an exercise in listening to each other's voice and presence', each logic or observation seemed to have become a means of escape from the situation.
There we all stood, in pitch-darkness, in a black cube of agricultural plastic still smelling of damp earth and manure, in silence. A silence instructed by Campos, after which we, if we wished, were allowed to say something or walk around in the dark. After the initial shock of o dear, we have to participate, and o no, we have to say something, the mood gradually changed. Our tongues became looser as the temperature in the plastic cube rose. The discussions gradually moved from fury concerning social conditions, socially desired behaviour, the impotence to walk away from bad performances or sleep-inducing lectures towards observations relating to the silent carriages on Dutch trains and free range chickens. Eventually the group split into a section that did go outside and a section who used the silence and time in the sweaty black cube to come to, um yeah.. to come to what exactly?
After a short intermezzo with coffee and cake, everyone was sitting café benches situated at the rear of the house, quietly gazing into space. Some tried to shake off the clammy black cube, others wagered an attempt at discussing the context of Artistic Research and participation. But for one reason or another the black cube had in effect brought everyone closer and expectations were softened into a congenial sense of togetherness.
During Esme Valk's presentation of her projects and researches 'Showcasing Today's Essentials' (2010) and 'The Importance of the Composed Domain' (2012), I suddenly found myself sitting on the edge of my seat.
In a loose and easy manner, Valk was relaying step by step how she became interested in the subject matter of her artworks and how her research had taken shape. The concentration and inspiration I drew from her story regarding her research gave me a vision of what artistic research could be. Precisely this; no difficulties with theories and philosophers that you probably won't even use at the end of the day and are likely to store away in your head in the compartment labelled 'general development', but a personal research, born from a fascination with your work's subject matter. A coincidental (?) circumstance was that her work and artistic research looked into window displays, stage design and modernism, amongst other things, and yet also ticked the boxes in terms of form and visual language; the complete lack of which has often spoilt many artistic research projects for me, that in combination with an exaggerated desire for text and research. Display, or how the research is exhibited or showcased, is often forgotten within artistic research. Valk (Piet Zwart Institute, 2008) seems to have achieved a natural balance between theory and practice, without ever having studied artistic research, or to even view her work in this context, although she was curious about it. Practice alternates with theory in the same way art and science go together. And I thought to myself: She's having her cake and eating it too!
Maybe that's just it, maybe it shouldn't be named or studied, but simply be done. Its broader context will only be determined afterwards, when art history is written. Who are the artists who will be singled out as the success stories of the artistic research movement?
The symposium continued with an interesting presentation of work by Rebecca Stephany for Performance Project LISTE 17 (Basel, 2012), which didn't seem to have anything to do with Artistic Research at first sight, yet afterwards clearly revealed a specific relation between expectations and the context in which work is presented as well as the way in which the value of art can be represented.
The Zoldermuseum, represented by Iva Supic Jankovic and Isfrid Angard Siljeahug, concluded the evening with a short account of how they had walked from Kunsthuis SYB in Beetsterszwaag to the home of Louwrien Wijers in Ferweert. After completing a 12-hour walk across a distance of 50 kilometres, they had a number of conversations with Wijers. Louwrien Wijers, who honoured us with her presence at the symposium, is a journalist, visual artist and an adept of Beuys. In her work she aims to bridge the reality in which we live and a malleable world in which the individual, nurture and society form a holistic balance. In 1990, she established the project, 'Art meets Science and Spirituality in a Changing Economy' precisely for this purpose, in which she brought together renowned scientists, economists, thinkers and artists. The symposium, therefore, drew to a close with a rather unexpected spiritual and open end.
During the final dinner I detected a renewed enthusiasm and optimism amongst the symposium's visitors. Some called for a sequel.
No conclusions at the end of this informal symposium, but there was a desire and a deep need for a new form of knowledge, particularly for sharing the knowledge that arises when art and science encounter each other, in a clear and natural manner.
Download the evaluation of the participants here.