4 November till 19 December 2019
Residency & events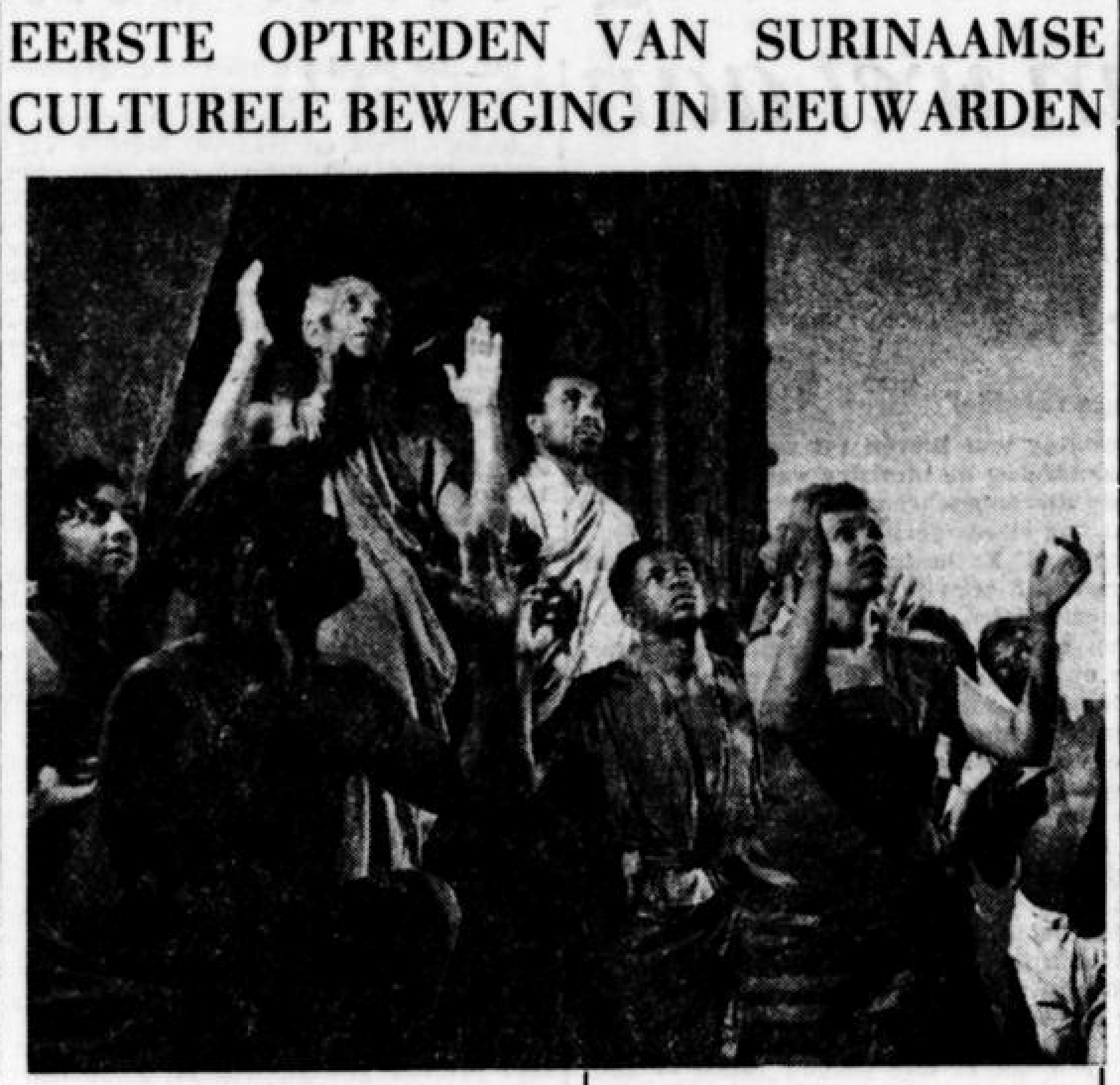 Curator Petra Ponte will be a resident at Kunsthuis SYB until 19 December.
In SYB, she will continue and expand on her research into artist Nola Hatterman (1899 – 1984) and freedom fighter Boni (ca. 1730 – 1793) through archival research and conversations.
Petra Ponte's project Nola & Boni deals with the work and life of artist Nola Hatterman (1899 – 1984), and particularly, the key role that freedom fighter Boni (ca. 1730 – 1793) played in it. The performance De geboorte van Boni (The birth of Boni) serves as a starting point. The play, written by Eddy Bruma, was presented on 27 September 1952 in Leeuwarden on the occasion of the publication of the Surinam edition of the Frisian literary magazine De Tsjerne. The rehearsals for the theater performance took place in the home of Nola Hatterman, who also made the set design and costumes.
The home of Nola Hatterman on Falckstraat did not only function as a rehearsal space for The birth of Boni, it was a meeting place as well. Nola opened her home for discussions, poetry, music, and shared meals. Emulating this open atmosphere, Petra will also be inviting guests to her temporary home, Kunsthuis SYB, to allow her research to expand through conversations.
---
Conversation I
Sunday the 17th of November, from 2pm – 4pm
(Language: Dutch)
On Sunday afternoon, November 17, publicist and researcher Ellen de Vries and visual artist Marieke Zwart will be Petra's guests. Ellen de Vries has been researching the life and work of Nola Hatterman for years, and published the biography Nola, portret van een eigenzinnig kunstenares, and is the initiator of the project The Legacy of Nola Hatterman. Marieke Zwart is interested in social definitions of emancipation and independence, the Dutch colonial past and personal narratives. In 2015, Zwart made a series of drawings in which she investigated the relationship between Nola Hatterman and the model in the painting Arbeider.
---
Conversation II
Sunday the 1st of December, 2pm – 4pm
(Language: Dutch)
On Sunday the 1st of December, we'd like to invite you for our second event, in which we will welcome writer and poet Eeltsje Hettinga, philosopher and writer Matthijs Ponte, and historian and journalist Jan Ybema.
As 'Fryslân's poet' from 2017 – 2019, writer Eeltsje Hettinga contributed several articles for the Leeuwarder Courant. In one of these documents, Hettinga emphasizes the importance of dialogue as a counterweight to growing nationalism and polarization. In a subsequent opinion piece he points to historical ties between Friesland and Suriname. In this context, Hettinga also translated poems by Michaël Slory to Frisian. (the links to these Dutch articles can be found on the Dutch version of this article)
Philosopher Matthijs Ponte has curated several programs on Caribbean literature for Perdu, Read My World and the Caribbean Literature Working Group and has published articles in Awater and Oso.
On the occasion of 40 years of independence from Suriname, Jan Ybema wrote an article about the contemporary relevance of the Suriname issue of De Tsjerne (autumn, 1952) in internet magazine Skanomodu. Last year, he talked to Mitchell Esajas about the discovery of this special issue in The Black Archives and the contrast between the recognition of each other's emancipation movement at the time and the blockade encountered by opponents of Zwarte Piet in 2017.
---
Conversation III
With: Raquel van Haver, Marlou Heijnen, vinger.nl & friends
Date: Saturday 14 September, 3pm – bam
On Saturday afternoon Petra converses with visual artist Raquel van Haver and assistant researcher Marlou Heijnen. After the conversation there will be a festive meal as a solid basis to keep dancing until you drop with ALL1NE, Jeff Croese, Joenes & MAMI WATA. As Eddy Bruma, author of the play De Geboorte van Boni (The birth of Boni), said to D.A. Tamminga, editor of De Tsjerne, after the performance in Leeuwarden: We got to dance. We are not going home before sunrise.
---
Petra Ponte (1986, Huis ter Heide) is a freelance curator, cultural producer and researcher, working from Amsterdam. She holds a BA in Theater Studies and an MA in Art History (Modern and Contemporary Art) from the University of Amsterdam. Recent projects include: Museum des Geldes, Musée des sacrifices. a gathering (Kunsthalle Düsseldorf, 2018), Tisna Tells… (Van Abbemuseum Deviant Practice, 2016/2017), A Rap on Race Revisited (das weisse haus / Read My World: Black USA, 2016/2017).

SYB is open every Saturday and Sunday between 1 p.m. and 5 p.m. You are very welcome to visit the space and take a look at the research material.
Nola & Boni is kindly supported by the Bank Giro Lottery Fund and the Mondriaan Fund.